Pakmen Volleyball Club club president Kelly Smith is thrilled to announce the addition of CIS standout coach, Dustin Reid, to their coaching staff.
Dustin is widely considered to be one of the top coaches in Canada, both on the girls side and the boys side, and comes with an impressive history, both as a player, leader and coach.
"Dustin will act as a mentor for both our athletes and coaches. He will be leading on the court during practices and helping our athletes, coaches and teams achieve their goals" commented Smith. "Together with head coach Orest Stanko, Dustin will help us offer the right leadership to continue to attract and develop the best young coaches. I have known Dustin for 12 years and I do not know a more widely respected coach and person. Today is a good day for Pakmen".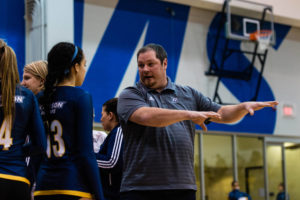 Dustin Reid is the head coach of both the mens and womens volleyball teams at Ryerson University. They are both coming off one of their most successful seasons in school history. A former Canadian national team player, Reid represented Canada in more than 120 international matches including two World cups, the 1994 World Championship and two Olympic qualification attempts (1996 and 2000). He also played professionally for four years in Germany and Switzerland. Reid played one season with the University of Toronto men's volleyball program and was a captain of Ontario's gold medal winning team at the 1993 Canada Games.
A NCCP certified Level 3 volleyball coach, Reid served as Technical Director for the Ontario Volleyball Association (OVA) for four years prior to coming to Ryerson. From 2001-2004 he coached Professionally in Switzerland winning four different national championships including leading the MTV Naefels VC professional men's team to back-to-back Swiss League championships in 2003 and 2004.
Reid remains very involved in Long Term Athlete Development initiatives both provincially and nationally. He is an active coach and learning facilitator in the OVA ADP and Coaching programs, is a volunteer LTAD committee member at Ontario Volleyball and currently serves as the chair of Volleyball Canada's Domestic Development Committee.