Accomplishments
Mann and Glagau Make up for Stumble at Provincials with National 14U Crown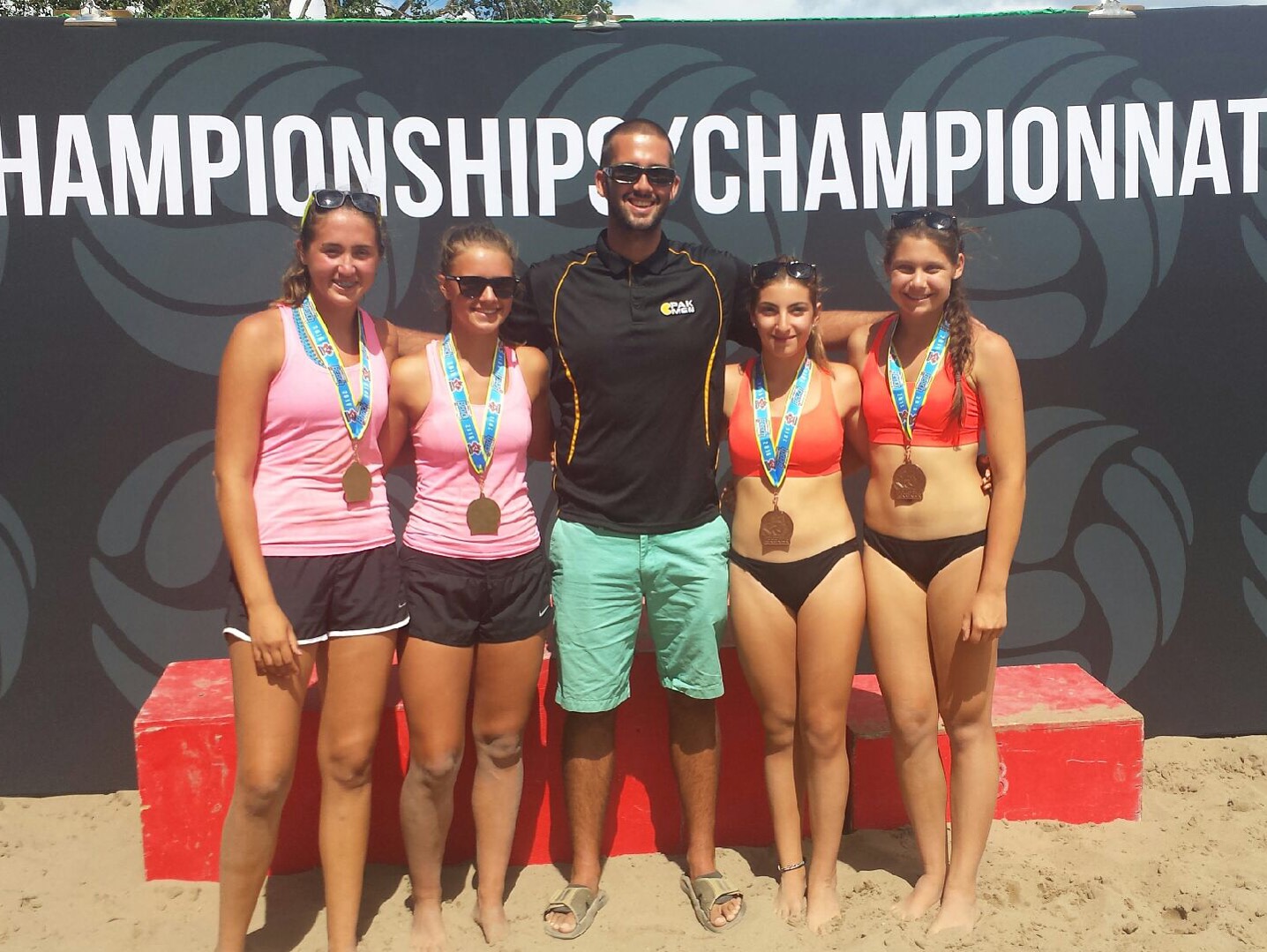 By DAVID WINER
Ava Mann and Kaylee Glagau began the summer with two objectives.
After their first goal of capturing the OVA Provincial Beach Championships was derailed by a three-set semi-final upset, the Mississauga Pakmen indoor teammates were hell bent on not allowing such an outcome to recur.
"Coming third in Ontario really pushed us to get better and train harder for Nationals," explained Glagau.
And the duo lived up to their pact, not dropping a single set, on the way to claiming Volleyball Canada's Youth Beach 14UGirls Nationals title at Toronto's Ashbridges Bay August 19-21.
Having to play 11 matches over three days, conserving their strength and stamina was essential, and Mann and Glagau prevailed in decisive fashion, capturing the gold medal with a 21-5, 21-10 win over Charlotte Bilodeau and Solveig Roy of Quebec.
"We had a very tough loss in the semis at Provincials (to Phoenix Lee and Tia Shum that went to 14-16 in the third set) and after that we decided to train harder because we had three weeks before Nationals and we wanted to be the best we could be," explained a determined Mann. "All year we were working towards gold at Provincials and Nationals, so when we didn't get it at Provincials, we knew we would play stronger than ever at Nationals."
On hand to give them moral and technical support was Pakmen coach Aleks Mamuzic, who couldn't say enough about Mann and Glagau's work ethic and tenacity.
"Even though the girls won the bronze after losing the semis at Provincials, it is always rough losing a third set by two points," said Mamuzic. "(But) the girls didn't let that loss stop them from working hard on and off the beach courts (in preparations for their next opportunity at Nationals)."
And, because their expectations never varied throughout the season, it appeared as if there was little place for shock, or even surprise, when Mann and Glagau claimed their spot at the top of the podium at Nationals.
"I think our win wasn't surprising to us because we train a lot and we put a lot of effort into our beach season," said Glagau. "We also take private beach lessons, which helps us, because we get a lot of one on two coaching and we can work on specific things, which I think helped us to get to where we are right now."
And where they are right now is in pretty select company as one of three Pakmen teams to win National beach titles this summer.
"The girls were focused all tournament," raved Mamuzic. "They passed well, set aggressively, and that allowed them to have a lot of scoring opportunities on their attacks."
"(The gold medal) definitely feels special because we achieved a personal goal and we were really proud to represent Pakmen," said the 5-foot-10 Mann upon reflection.
"It feels amazing because all of our hard work finally paid off," she added. "I'm proud of both Kaylee and myself."
"It feels pretty good. Especially since Ava and I ended our 14U season on a great note," added the 6-foot-1 Glagau. "I'm looking forward to many more championships."
Mamuzic feels there's still a lot more talent to be untapped, especially with Glagau's height advantage at the net.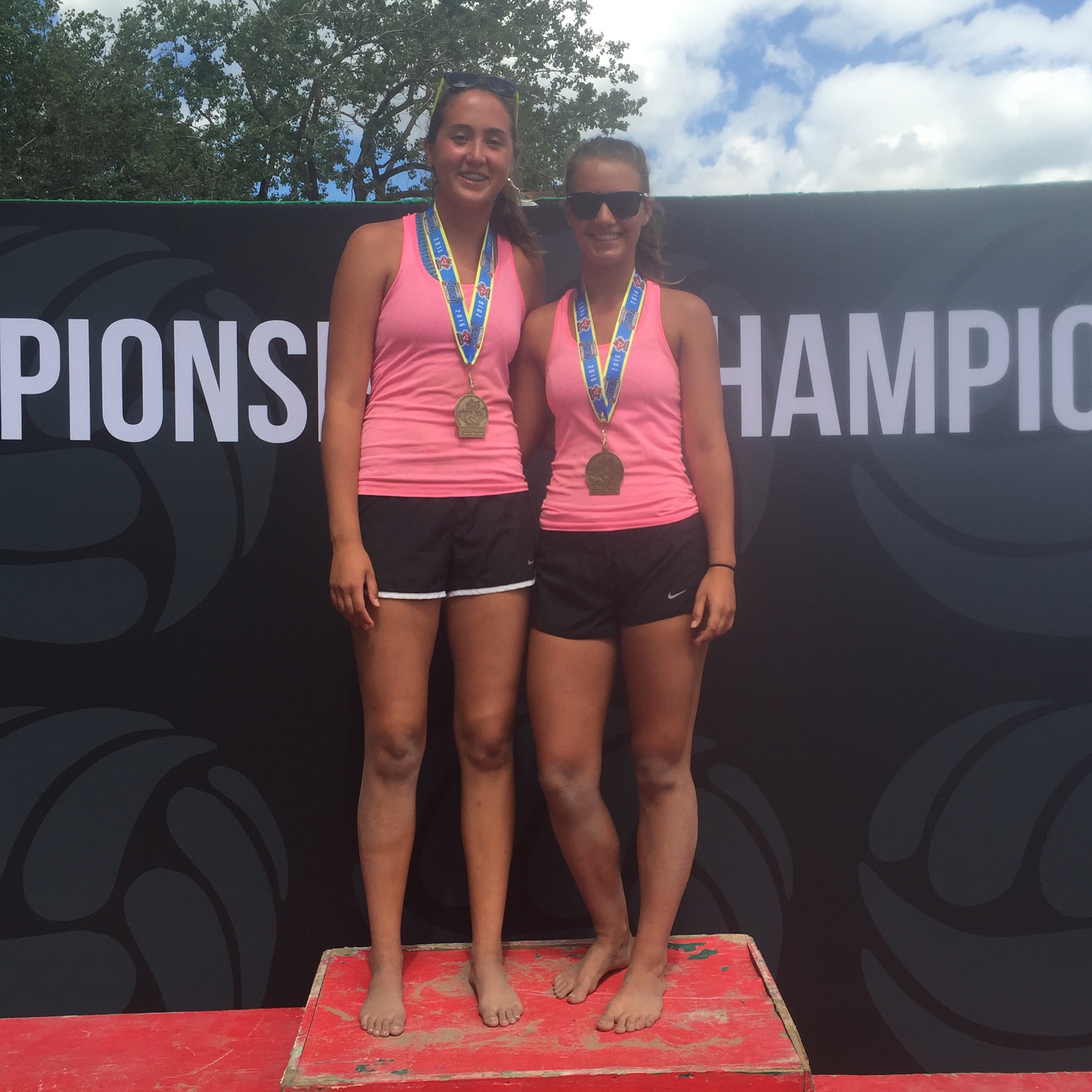 "Although both girls have solid fundamentals, it doesn't hurt that Kaylee put up the biggest block in the 14U division," said Mamuzic. "Most teams try to set the ball off the net more, which makes peeling and playing defense a lot easier. (Meanwhile) Ava is a workhorse on defense, she chases down every ball. Even if she doesn't get it up, it's that type of attitude that makes her partner play better."
"The coaching that we got from Aleks was definitely key to our success," said Mann. "We had also been doing extra physical training with Reid Hall. Also we both know each other as partners and were trying to achieve the gold together."
That partnership Mann refers to is pivotal.
"Kaylee and I have been a team for two years now and I think we know each other's personalities really well, so when one of us is down the other knows how to bring the other one back into the game."
Another strength, according to Glagau is the professional way each player conducts herself, whether it's at game time, or at practice.
"The secret to our success is that we try to train like national champions by never slacking off at practices," explained Glagau. "Also, having a really good relationship and friendship with your partner is important, because without that, we couldn't have won Nationals.
It's therefore not surprising that Mann and Glagau have every intention of keeping their partnership.
"We plan on remaining a team and I hope we remain a team forever because I couldn't imagine myself playing with anyone else," said Glagau. "Not only is Ava my beach partner, she is also my best friend, and if somehow we are not beach partners in the future, I hope we could still be friends.
"I also think our games complement each other very well," added Glagau. "Who knows how far we can go with hard work, determination and always remembering to have fun."
Unfortunately, the two friends couldn't celebrate their championship together, because both families had to rush off on holidays, but the two agreed to take a rain check.
"We didn't celebrate together after because we had to go to our cottages, but I would have liked to," explained Glagau. "We usually do at the end of other tournaments.
"Our parents have a good relationship with each other too," she added. "We are all very close and get along very well."
Mann, who will attend Burlington's Dr. Frank J Hayden Secondary at the start of the school year, and Glagau, who will go to Mississauga's Streetsville Secondary School, defeated Quebec's Laurence Huard and Sarah-Jeanne Beaulieu in the semi-finals, 21-8, 21-4, and bested Markham's Isabella Samadzadeh and Sonya Bogatchev 21-19, 21-6 in the quarter-fiinals.
In earlier preliminary round action, the Pakmen duo defeated Makayla Harte and Angela Freiburger of Kitchener-Waterloo, 21-12, 21-15; Niagara's Emma Hilts and Grace Teal, 21-3, 21-8; Toronto's Kyle Deverell and Livia Collinson, 21-5, 21-12; Quebec's Olivia Apostolis and Sara Malik, 21-8, 21-10; Bilodeau and Roy, 21-10, 21-11; Burlington's Lauren Pastor and Julia Capone 21-8, 21-13; Toronto's Regan Miller and Megan Monteith, 21-11, 21-9; and Alberta's Sadie Clark and Alex Sinik, 21-6, 21-6.