Accomplishments
Mississauga Pakmen 16U Boys Win Back-To-Back Canadian Titles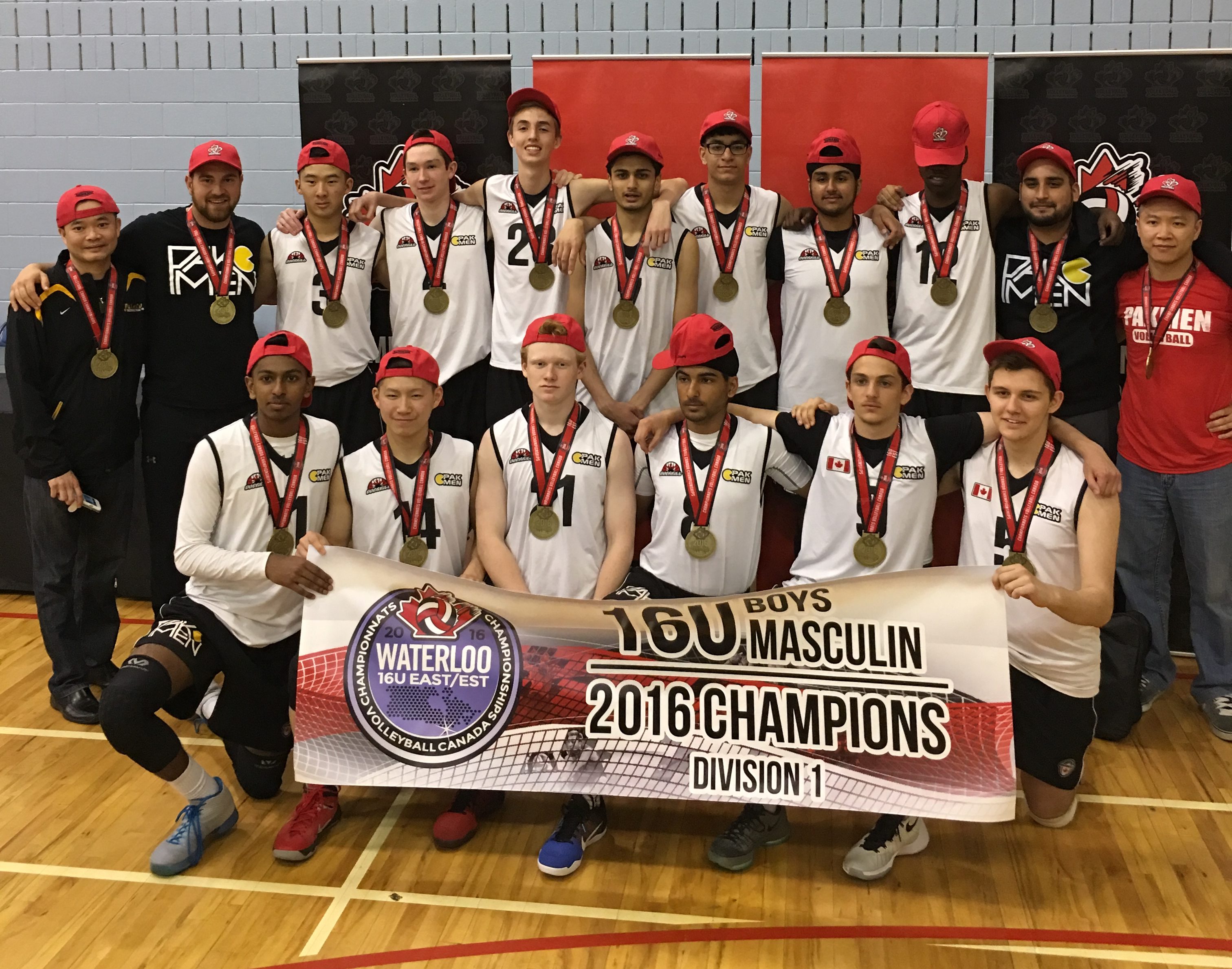 By DAVID WINER
For a second straight year, the Mississauga Pakmen 16U boys had to look on despondently, as their opponents posed for celebratory pictures with their sparkling OVA Provincial gold medals draped around their necks.
And for a second successive year, the Pakmen were able to fixate on that nightmare and use it as incentive to focus on the next task at hand.
It takes a special class of athlete to rebound from such emotional depths in a matter of a few weeks, yet the Pakmen were able to succeed in doing so, not once, but twice, winning the 2015 Canadian 15U championship in Calgary, and the 2016 Eastern Canadian 16U title this past weekend (May 20-22) at Waterloo's RIM Park.
The ability to rally back and excel against the country's best sides is what has separated the Pakmen from the crowd in Canadian volleyball these past two years, making them the team to look out for when the 2017 indoor season kicks off.
This time around, the Pakmen were able to get past the Condors of Chaudiere-Appalaches, Quebec, 25-12, 25-20 in the quarters, and Kitchener Predators Legacy, 25-13, 18-25, 22-20 in the semi-finals, before knocking off Gatineau, Quebec's Griffons de l'Outaouais in the Eastern Canadian final, 25-13-, 25-19.
"Yes, last year we came second at Provincials and first at Nationals. Same thing this year; second at Provincials, first at Nationals," concurred head coach Jessy Satti. "It's a bit of a strange pattern, we had a hard time two years in a row closing out Provincials, but we were able to bounce back for Nationals.
"I give a lot of credit to the guys," added Satti. "They hold their skills to a high standard and I think both times, after losing Provincials, they were able to push themselves to work hard for Nationals.
"The key was to play with confidence and get the job done by playing our style.We pass the ball well and we run a good offence, so the boys did a good job preparing themselves for every serve that came over the net."
"Losing Provincials two years in a row was not easy," admitted 6-foot-2 setter and team captain, Saad Shaikh. "At that point you can either just give up, or use it as motivation and work hard. We used it as fuel and worked hard. We used the loss as motivation. That motivation helped us win Nationals last year and this year."
"I think we, as a team, take defeat as motivation and not something that puts us down," chimed in middle Arjun Selhi. "This sense of motivation helps us perform well at a high pressured tournament."
"The losses that we took at Provincials just motivated our team to train much harder and re-evaluate our strengths and weaknesses," said 6-foot right side Vikas Ravendra. "We made changes where we felt were needed for the better of our team."
The emotional toughness the Pakmen displayed in order to rebound from Provincial disappointment was never more prevalent in the semi-final against Kitchener.
"The proudest moment was in the semi finals (against the Predators)," recalled Satti. "We were down 6-12 in the third set, and the guys fought back to win the match 22-20. The guys stuck together as a team and didn't give up. As a coach you can't ask for a better moment than that."
The players' opinions vary on how important this Eastern Canadian title was in comparison to beating this country's best from coast-to-coast 12 months earlier in Calgary.
"Last year the team that beat us (Durham Attack Black) was at the same Nationals, thus winning (there) gave us a more superior feeling," said Selhi. "However, this year, we had to work our hardest being down 3-8 in the third set of semis. I feel we worked harder for this title."
Meanwhile, winning on a national stage proved more gratifying for Ravendra.
"Winning this year was an amazing accomplishment, but didn't feel anywhere close to last year's National gold medal," said Ravendra, who attends St. Marcellinus Secondary School along with setter Gurnoor Bath and middle Matthew Powell. "In Calgary we had the chance to bring home a gold medal, not just for our club, but for the province of Ontario."
As for Shaikh, he takes equal satisfaction from both gold medals.
"Winning this year almost feels the same as last year because almost all the guys from last year are on the team this year and it feels great knowing I have two National titles with the guys I love playing with."
One thing all three players can agree on was the excellent job Satti did in refocusing the team on Nationals after such a disappointing Provincials.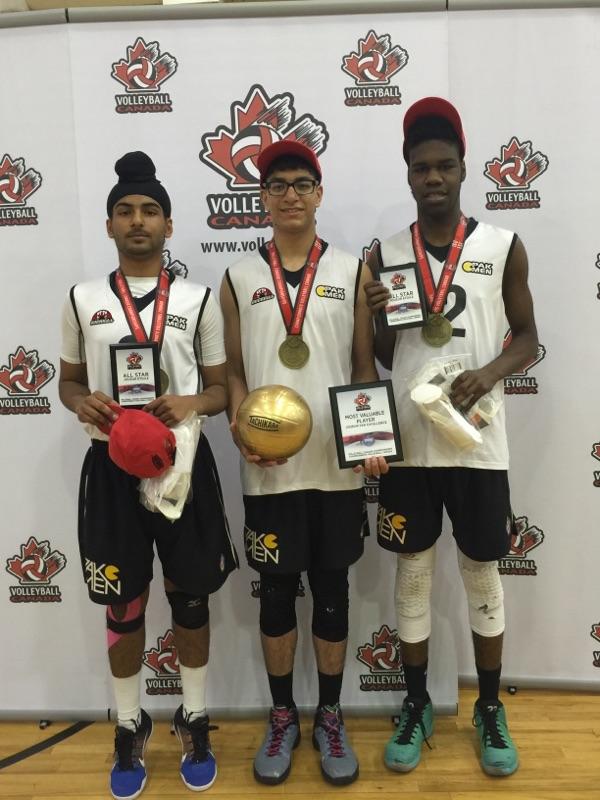 "We have great coaches who believe in us," said Shaikh, a Grade 10 student at Mississauga Secondary School. "The reason for our success is everyone having the same competitive mindset. We were all focused on winning and wanted to take care of business."
"Our team is successful due to our amazing coaching staff," agreed Ravendra.
"They dedicate a lot of their own time to design drills that will help improve our areas of weakness. Another big factor for our success, that many people don't notice, is how deep our team is. Everyone on our roster can come in at any given moment in a game and make a positive impact."
"The coaches understand each and every athlete and know the sport (intimately)," added Selhi, "helping us succeed. The team's chemistry is also very good. We know each other, not only as athletes, but as brothers. We all go to schools close to one another with at least one teammate (as school mates)."
Three players, in particular, stood out in Waterloo in the eyes of coaches and officials.
"Everyone played great," said Satti. "We had two tournament all stars, Avy Bath and Matthew Powell, and the tournament MVP Arjun. Those three guys really helped lead the way. Vikas (also) played a key role in leading us back in the semi finals during the 6-12 deficit. He played with extreme confidence, and the entire team had a lot of faith in him. He rose to the challenge and had an amazing match. He finished the match with a service ace for the win."
"Being named the tournament MVP gives me a different type of confidence," explained the 6-foot-4 Selhi, who like Shaikh, left side Matthew Cheung and right side Avy Bath, attends Mississauga Secondary. "It shows that I performed well at the grandest stage of the year. I look at all my teammates as MVPs, they all came in and did their parts when we needed them. Our team's depth showed up in the semis against the Predators when we came back from losing 3-8 on side switch to winning 22-20."
Prior to the playoff round, the Pakmen swept the Lynx from Montreal's South Shore, 25-7, 25-6; the Maverick Longhorns from Ottawa, 25-12, 25-20; Georgetown Impact, 25-23, 25-16; Pakmen Black, 25-11, 25-22; Scarborough Titans, 25-13, 25-12; and Aurora Storm Inferno, 25-11, 25-23.
While the Pakmen didn't get the opportunity to face teams from the west, it was an opportunity to compete against squads from la belle province.
"We played solid Quebec teams. They are very respectful and classy athletes and also fantastic volleyball players," said Satti. "They play with a ton of energy; and defensively, they are very strong, they put a lot of pressure on our offence. We really had to be aggressive for every point."
For teammates Ravendra and Shaikh, taking on three Quebec teams was a taste of what can be expected again next year when there will be a National championship for 17U clubs.
"Yes I'm excited to see what's in store for our team in the 2016-2017 indoor volleyball season," said Ravendra. "As for being a Canada-wide supremacy it will not affect our team's (thinking) because our mindset will remain the same, which is trying to get to the top."
"Last year we got the opportunity to play in an all-Canada National championship and we came out on top," said Shaikh. "I am excited to play those teams again next season because now everyone knows we are the team to beat and every team will push us to the limit.
Other members of the championship team include, Tom Williams, left side/libero Martin Matov, middle Alec Dragnea, Tyler Pavelic, left side Conor McLaughlin, libero Brendan Chan and assistant coaches Ed Chan and Frank Pento.