News
OVA Beach Champions Rugosi and Bento Have Wealth of Coaching Experience at Their Fingertips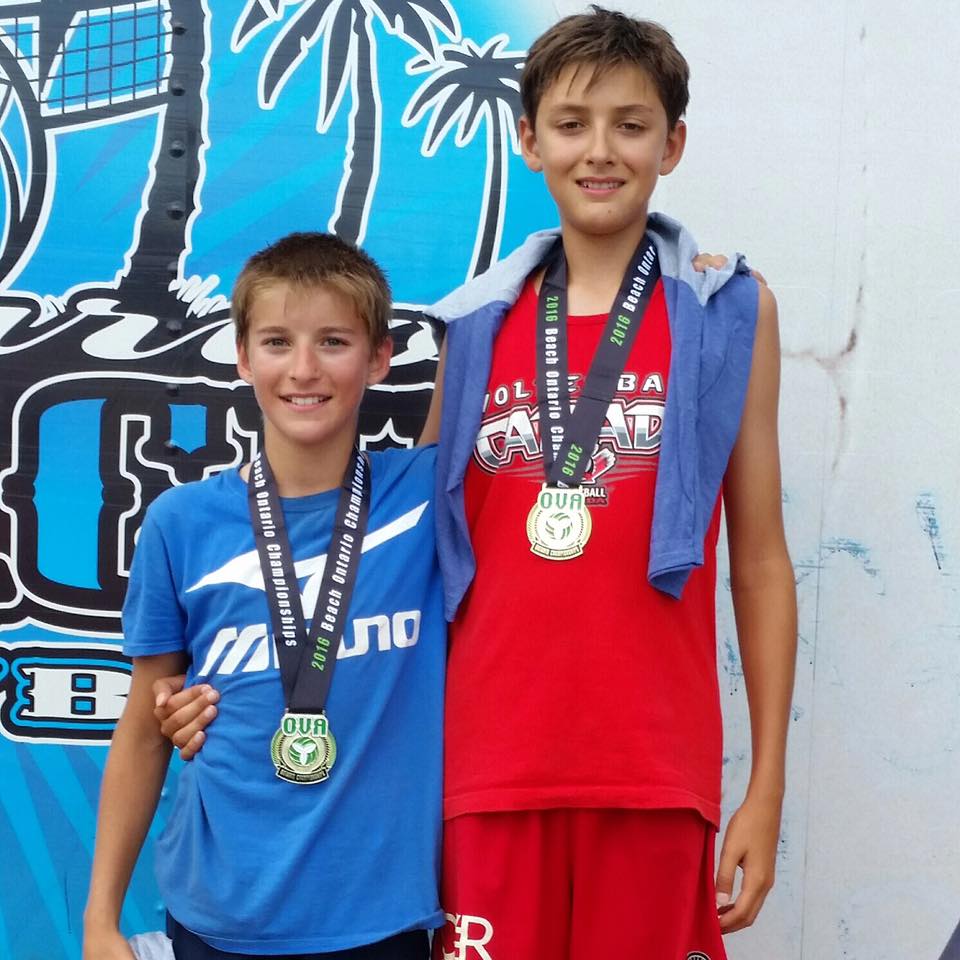 By DAVID WINER
Whoever said, "It's so hard to find good help these days," didn't travel in the same circles as Matthew Rugosi and Arthur Bento.
Although only 13 and 12 respectively, Rugosi and Bento have a wealth of experience to rely on when preparing and competing at volleyball tournaments. And, the OVA U13 Beach Championships on August 6 at Toronto's Ashbridges Bay was no exception.
Rugosi, an indoor champion with the Mississauga Pakmen, and Bento, an indoor star with the Aurora Storm, are always in earshot of an expert's voice, from Matthew's father Franco, Bento's mother Adriana, and Pakmen head beach coach Jessy Satti.
Rugosi instructs at the Toronto Volleyball Academy and is a coach with the Pakmen; Satti advanced through the Pakmen ranks as a star player before becoming a pivotal member of Pakmen's coaching staff; and Bento played indoor and beach for Brazil, and currently coaches for Volleyball Canada, and for the U of T women's indoor team.
When it came time to put that extensive coaching knowledge into practice, Rugosi and Bento proved great listeners as they excelled in capturing the U13 age group at the OVA championships with a straight-set victory over Aurora Storm's Mitchell Law-Heese and Brandon Nichol in the gold medal match.
"We had three great coaches – Jessy from Pakmen, Adriana and my dad Franco, who is also a Pakmen coach," said Rugosi. "They all helped by teaching us different things, fine tuning our technique and giving us great hints during the matches."
Rugosi and Bento entered the championships as the No. 1 seeds with identical 1,000-point scores to Law-Heese and Nichol from earlier tournament action this summer.
"Since we beat Law-Heese/Nichol in other matches, we were seeded ahead of them," explained Rugosi, adding fellow Pakmen Kenneth Mann and Abinesh Ravendra were seeded third, and indeed placed third to win the bronze over Ottawa's J. Rainville and Samuel Deschenes.
In all, there were four teams entered in the tournament featuring players from the same winning 13U indoor Pakmen squad. Along with Rugosi, Mann and Ravendra, other Pakmen participants included Carter Chan and Anshul Keswani, as well as Benjamin Zhang and Aaron Torres.
But, whether facing teammates from indoor play, or foes, Rugosi gets just as emotionally charged for a match either way.
"To me, it doesn't matter who I play," said Rugosi, who will be attending Grade 8 at Etobicoke's Our Lady of Sorrows in the fall. "I am always excited to play and look forward to a great match and hopefully win. I (just) love playing beach volleyball."
Rugosi, who previously played with Bento for one indoor season with Leaside Thunder, feels having two seasons of beach play behind them as a duo is helpful.
"Since we have been playing together for over two years, we know each other's strengths and weaknesses and have learned how to motivate each other to improve our play," said the 5-foot Rugosi. "We also complement each other – Arthur is great at the net, and I love to dive and dig up balls."
"I think it is our passion to play beach and we really play as a team, with Matthew making the backcourt digs; and myself as a blocker and cover the front," chimed in the 5-foot-8 Bento, who will attend Grade 7 at Markham's Sir John A. Macdonald Public School in the fall.
Of the five matches the gold medalists played, Bento felt, "The final against my teammates Markus and Brandon was the toughest (match). We were very focused on what to do, also very open to listening to Franco's instructions. We won silver last year and we really wanted the gold this year."
Bento is delighted with the coaching setup he and Rugosi have.
"We practice four times a week," explained Arthur, "with two practices at Pakmen with Jessy, and two practices with my mom, Adriana. Franco was our coach during the tournaments, and I was very fortunate to have all three coaches helping us to improve our game."
"I help coach the boys during pre-games and timeouts identifying the strategic direction against each opposing team and how to capitalize (on) their weaknesses," confirmed Franco, "and of course helping them to focus on what is required to win.
"All the coaches certainly have their strengths," continued Franco. "I can't speak for them, but for me, I always encourage my players to strive for perfection because it is their desire for perfection that will take their game to the next level. And always execute with 110 per cent effort – you (should) play how you practice."
Satti was certainly pleased with his charges' play at the OVA championships.
"Arthur and Matthew played really well all day," said Satti. "They truly peaked at the right time…their positioning was great, they were being aggressive at the right times, and they were solid defensively. They were putting a lot of pressure on teams by serving tough and playing good defence. Their opponents really needed to earn (their) points against them."
One familiar face who couldn't be on hand for the U13 championships was Bento's mother Adriana, who was in Rio de Janeiro working as an assistant coach for Canada's beach volleyball teams.
"I will be back this Friday (Aug. 19) and I will be there to see my son and my daughter play in the Beach Nationals," promised Adriana.
"(While) I saw my son play the U14 provincials and my daughter play in the U14 in the same week, I was not there when my son won the U13 Provincial gold medal.
"Normally I coach Matthew and Arthur two times a week and I bring Arthur to work out with Jessy two times a week with the other Pakmen players. My son likes to work with Jessy and I don't mind that he practices with Pakmen, (even though) he plays for Storm in Aurora."
Bento feels the working arrangements she has with Satti and Rugosi introduces her son to more than one voice and one thought process, which in the end broadens the players' mental horizons.
"On tournaments, Franco is the coach, but sometimes I coach and sometimes we coach them together," said Bento. "I think Arthur and Matthew adapt very well with a different coaching style. Both are great players and Arthur likes to play with Matthew a lot.
"I can tell that we, as coaches, are very different in styles," added Bento, "but we are very similar in one aspect – I am very deeply passionate and committed to the game of volleyball and I know Franco and Jessy are the same. The more important part, for me, is to have my son be able to learn from different coaches and adapt with different coaching styles."
Over her 25-year career in Brazil, Bento obviously grew accustomed to different coaching techniques and styles, having played indoor for 15 years and on Brazil's Beach National team for 10.
"The first time that I came to Canada was to play on the FIVB tour in 1998, 1999, and 2000, including the Pan-Am Games in 1999 in Winnipeg," recalled Adriana.
It was during beach volleyball play that Bento met and befriended Kristine Drakich. It's that relationship that led to Bento's hiring in 2010 to assist Drakich with the U of T women's team.
"I know Kristine because we competed against each other when she played for Canada and I played for Brazil and as we live in a "small world" we have now the opportunity to work together."
Not to be forgotten in Rugosi and Bento's gold medal showing is the bronze medal performance of Mann and Ravendra.
"Kenneth and Abinesh played incredibly well too," added Satti. "They played a very tough team (of Law-Heese and Nichol) in the semi-finals, but they had some great moments. Both guys were serving well and their shot placement was great too. They did a particularly good job controlling the windy environment, by keeping the ball low, and they were able to minimize the wind's affect on their game."
Mann says he and Ravendra struck up a conversation one day after a Pakmen indoor practice and they decided to form a team.
"We both know each other and how we play, which makes it easier to predict what balls can come from our passes," said Mann. "Our strengths and weaknesses complement each other. (And) we always try and stay positive, so when one of us gets down the the other can pick us up."
After that tough two-set loss to Law-Heese and Nichol, in which they led 8-6 in the second set before all momentum was lost on a medical time-out, Mann from Burlington, and the 5-foot-4 Ravendra from Mississauga, rebounded to defeat Rainville and Deschenes for the bronze medal in two straight sets.
"We beat them earlier in pool play easily so we knew, going into the match, that we were better, but couldn't let our guard down. In the end, we beat them in two hard sets," said Mann of the match for the final medal.
Not to be outdone, were fellow Mississauga Pakmen Liam Thomas and Robert Spataru, who won gold in the lower, Male Championship division at Ashbidges Bay on the same day.
Seeded seventh against eight other teams, Spataru and Thomas won all of their preliminary round matches, except for one against the team of DJ Tiffin-Seminara and Jaiden Schreck of Barrie, who they just happened to meet again in the final.
This time around, the Pakmen duo came out on top.
"We were disappointed that we didn't make the premier level as four teams from our Pakmen U13 indoor team (did)," said Thomas. "But we only played in two tournaments and were knocked out in the semi-finals in both. So we knew we didn't (accrue) enough points."
While Thomas and Spataru lost to Tiffin and Schreck earlier, Spataru said, "This time (in the final) we were ready and won 21-11 and 21-15."
Both Oakville residents trained under Satti throughout the summer along with their teammates.