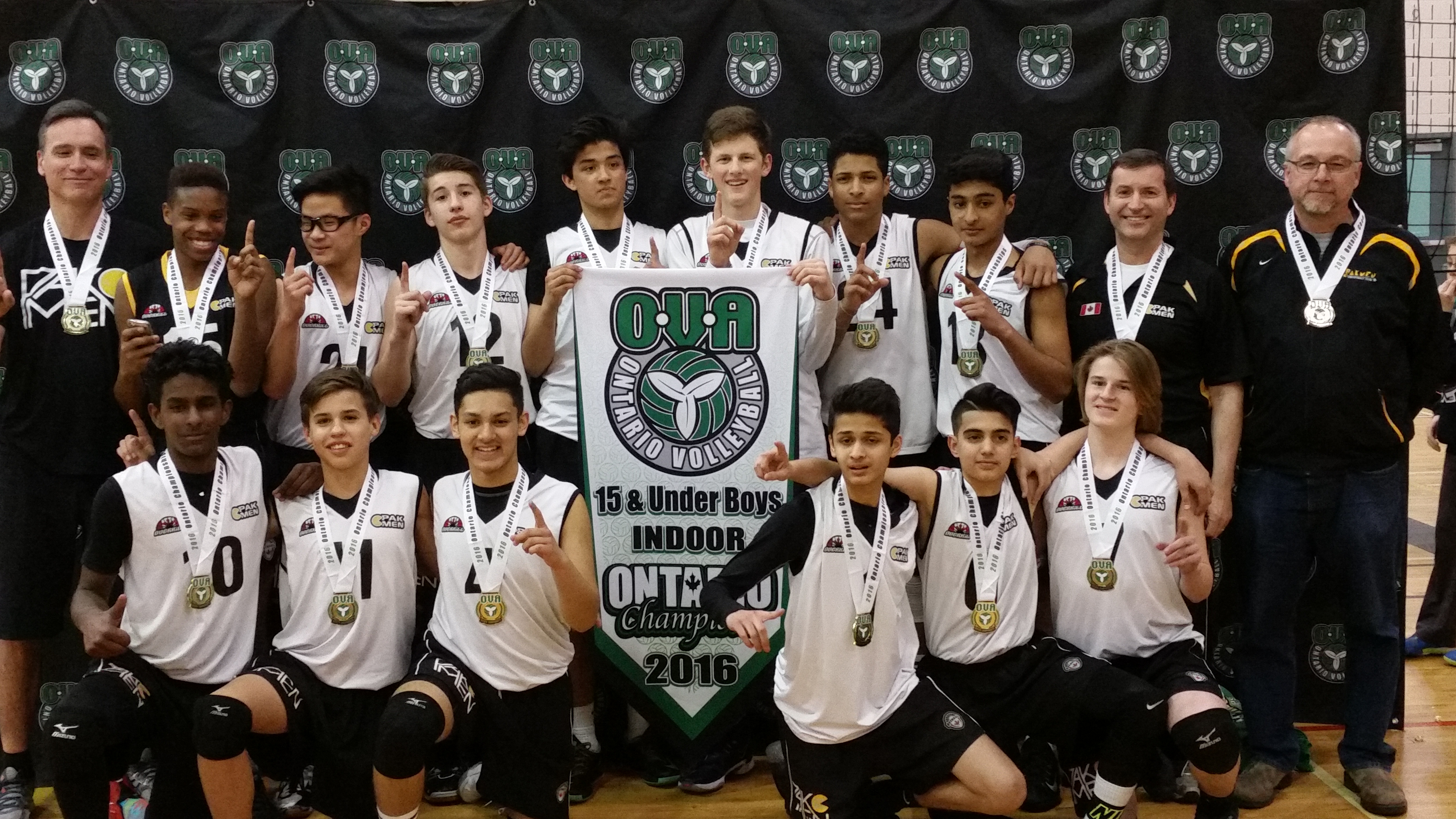 By DAVID WINER
They call the road on which the Mississauga Pakmen practice facility is situated, Champions Way.
At least if the city's biggest cheerleader Hazel McCallion was still Mayor, the Rathburn Rd. street signs would have already been taken down and replaced in recognition of the winningest club in Mississauga, and perhaps all of Ontario.
With the OVA Ontario Championships having just wrapped up on Sunday (April 24), the Pakmen Volleyball Club absolutely dominated on the boys' side, reaching the championship final in all six age groups against the best club teams in the province, finishing with four gold and two silver medals.
Pakmen's girls didn't fare too shabbily either, capturing gold and silver medals, for good measure, giving the club a final tally of five gold and three silver medals in 13 contested age groups.
"I am proud of all our teams and coaches and the leadership our (club) head coach, Orest Stanko has provided," asserted 15U head coach and club founder Kelly Smith. "Pakmen has been the top club in Ontario for several years now, but this year was our most dominant season to date. Winning U18 girls and boys was especially gratifying because the focus is to get the athletes to peak at that age group."
And, if the medal count wasn't enough, the Pakmen were deserving of an Emmy for the best drama of the championships on the final day of play, when they, and Aurora Storm RipTide, took to the floor in the 15U boys' division final.
Having just survived a come-from-behind, three-set semi-final against Toronto PVB just an hour earlier, the Pakmen were at it again, tormenting their fans by losing the opening set 23-25, and edging the Storm 26-24 in the second set, before clinching the title with a 15-13 decision.
"I felt we made too many unforced errors in both those sets and gave it to our opponents," revealed Smith in hindsight. "But I knew the boys were not going to roll over and concede defeat, so I was confident we could still win. As long as you don't give up, you can always win."
"It really was a thriller," agreed middle, and Oakville native Luca Nastase. "I think that it was our focus that enabled the team to battle the last two games. We have always done a lot of drills that last long and (the coaches) make sure we can execute the basics even when we are tired and bored."
"We kept cool by talking to each other and staying focused," added 5-foot-11 right side Talha Kahloan. "Focusing on the basics helped get our minds off of all the stress and all we had to do was execute using our skill. With the support of our team, and focus, we handled the semis and finals fairly calmly."
Along with focus, another key, according to Smith, was having no discernable weaknesses.
"We had one advantage over every team at Provincials, I feel," said Smith. "We have the most depth on our team. Most teams have one strong line of six good players and maybe one or two good role players and that's it. We have 13 strong players and because of that, we were able to play everyone fairly equally throughout the tournament so we were not as fatigued as everyone else. "We were okay emotionally too, because when you are physically rested, you are better prepared to battle in those close matches."
"Since we have a strong line up of 13 players that are all equally good, we could play anyone and expect the same outcome," chimed in Kahloan, a Grade 9 Mississauga Secondary School student. "We could rest the starters because we had multiple players that could play multiple positions. This allowed us to never be tired and always be fresh and ready for any situation."
The Pakmen opened the tournament with straight-set sweeps over Niagara Rapids Black (25-21, 25-20), Kitchener Waterloo Predators (25-10, 25-19) and Markham Revolution (25-11, 25-16).
The second day of pool play was much the same, with the Pakmen blanking Durham Attack (25-6, 25-12), Ancaster's Mountain Athletic Club (25-8, 25-21) and Markham Venom Vipers (25-12, 25-16).
After a quick start to the playoff round on Sunday, with a 25-12, 25-15 win over London Heat, the Pakmen edged PVB 21-25, 25-16, 15-5, before taking to the floor again to beat Aurora, 23-25, 26-24, 15-13.
"I think against, PVC, we felt we just had to limit our unforced errors and we would win. But against Aurora, we knew we would have to, both limit our unforced errors, and play at the top of our game, because they are such a strong team," explained Smith. " They serve, pass, attack and block very well, so they are a difficult team to defeat."
"There was no perfect ending in my mind," Kahloan recalled thinking at the time. "The only perfect outcome was we come out on top. And that's exactly what happened. I didn't expect us to win two matches straight, our rivals are highly skilled.
"Turning points in the semis was when Mark Dildar went on an 11 (point) serving run," felt Kahloan. "He scored 11 points in a row in the third set, which sealed the game. In the finals the turning point was in our huddle. Everybody brought energy after losing the first set, and we knew what needed to happen."
"The turning point in the semi and the final was the second set," said Nastase. "In the first set we weren't making a lot of mistakes, but we were tentative. In the second set we came in with more intensity and focus. We weren't afraid to swing all out anymore and we were definitely more hyped."
"Before the game coach Smith was explaining to us why teams break down all together and that is because when one person makes a mistake, all the other people worry about him instead of focusing on what they are supposed to do," explained the 6-foot-3 Nastase, who attends Grade 9 at Garth Webb Secondary School. "That way everyone is going to make mistakes. Coach Smith told us to 'lock in' first before the ref blows the whistle. This enables us to focus on the ball and what we are supposed to do next."
Next up for Nastase and his teammates, are the Canadian Championships back at RIM Park in Waterloo, May 12-15.
Asked if he and his teammates were prepared for Nationals, Nastase said there is always need for improvement.
"There is always something that can be done better and we always have space for improvement," said Nastase. "No matter who we played we have always lost a couple of careless points. A perfect ending would be with no mistakes."
Smith isn't about to let the celebration of winning Provincials last too long.
"We will take tomorrow off to rest and recuperate but then get back at it Tuesday," he said on the night of the championship. "The guys are self motivated and competitive people and they know they will have to get even better if they want to win at Nationals."
"After winning gold and celebrating, I've completely forgotten about the win," added Kahloan. "The win was great, but (it) means nothing now, the team has to work even harder to now focus and win Nationals. This will be a big challenge. All we have to do now is train as hard as possible; emotionally we have to prepare to be in tougher situations than Provincials. Physically I don't need to recover, because since everyone played so much, nobody is really out of shape."
Other members of the championship team include Saqib Shaikh, Nick Basilio, Ashraf Shaikh, Karman Nahal, Josh Pereira, Trent Ketrzynski, Peter Rugosi, Tevin Bramwell, Jonathan Li and Sebastien Martin Demers.
Smith was assisted by Franco Rugosi, Alex Ketrzynski and Andrew Ceolin.