Accomplishments
Pakmen Blow past the Storm to Win Eastern Canadian 15U Boys Title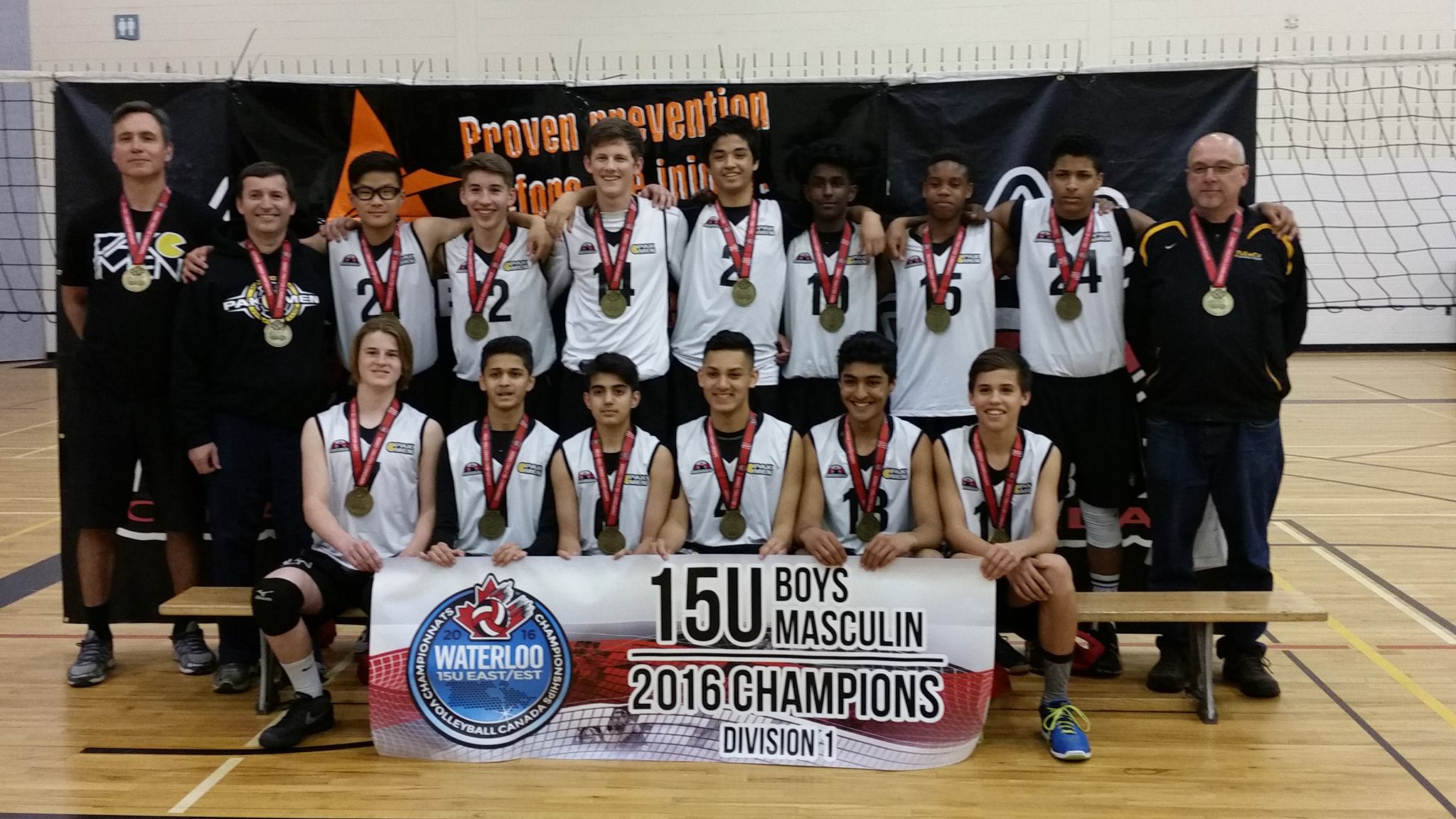 By DAVID WINER
The best way to face a storm is head on. Veering away from it will only result in capsizing.
Mississauga Pakmen didn't have to consult a manual on marine navigation when preparing for this indoor volleyball season, they just needed to trust in one another and weather the storm together.
And united, as one, the club's 15U boys swept both the Ontario Volleyball Association and Eastern Canadian Championships in dramatic fashion over arch nemesis, Aurora Storm RipTide.
While the Pakmen faltered against the Storm in the preliminary round of the Eastern Canadians, and needed the maximum three sets to win both gold medals, they found a way to prevail in the face of the Storm in crucial moments.
Credited for steering the Pakmen through the turbulence is head coach Kelly Smith.
While the scores clearly indicated there was little separating the Pakmen from the Storm throughout the indoor season, including the Ontario Championships April 22-24 and Eastern Canadians from May 13-15 at Waterloo's RIM Park, Smith felt the difference was, "Our guys don't give up. As long as you don't give up, you are always a threat.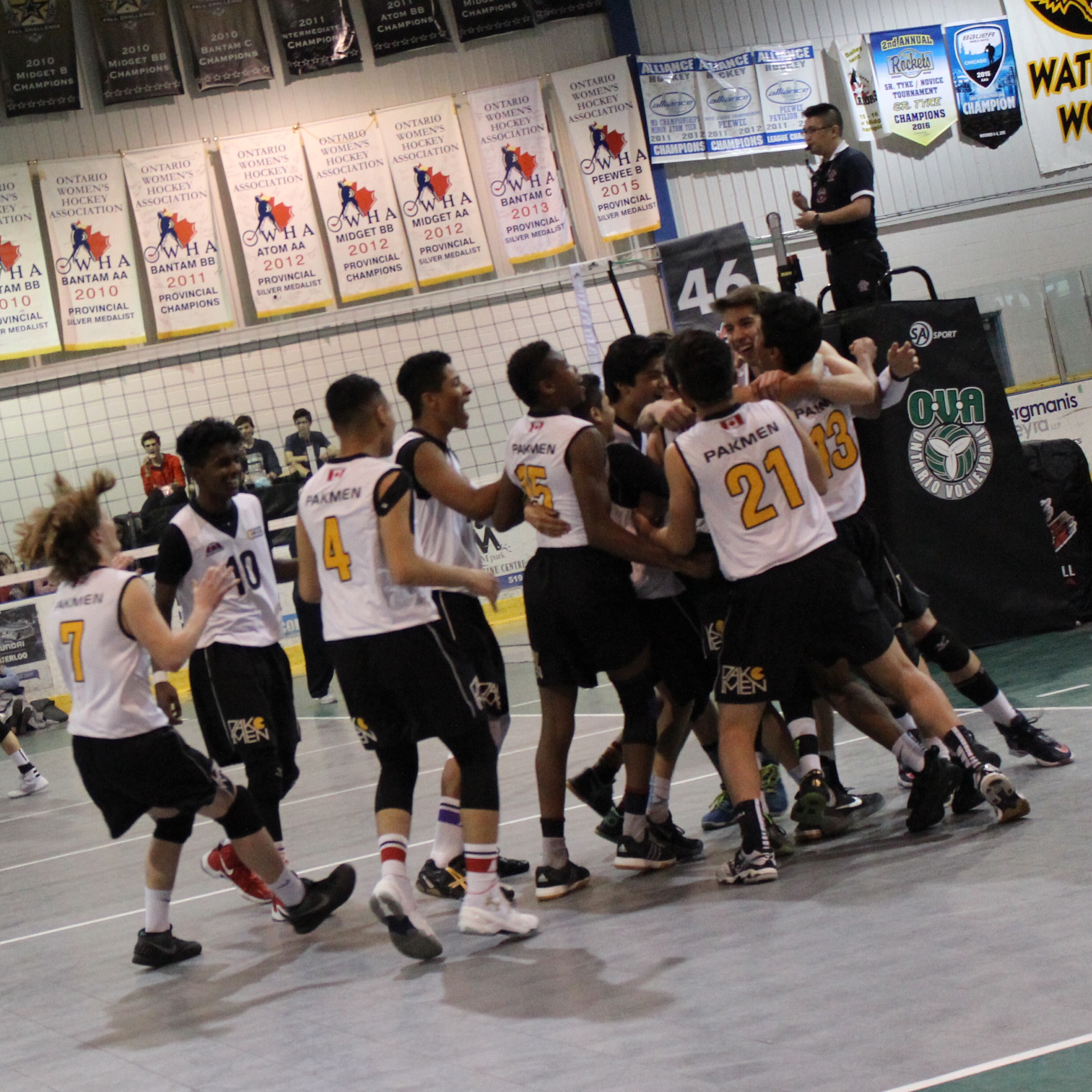 "Storm is an excellent team and we have battled back and forth with them all season," added the club's founder and President. "We beat them in a hard-fought, come-from-behind match at Provincials. We lost to them in pool play at Nationals, but we were playing without our captain and leader, Pete Rugosi."
Rugosi turned and sprained his right ankle against Toronto's Patriots VC in the third match of the opening day of play and could be seen court side in a walking boot and on crutches during the second day of action when Pakmen suffered their lone loss.
"I was jumping up to block a ball and when I came down, I landed on the setter's foot from the other team who had put his foot over the line," explained Rugosi. "So (after seeing the doctor), I sat and cheered my team from the bench.
"But I was really anxious and wanted to play. (Finally) on Sunday, I thought I could play through the pain since my ankle was feeling better."
But, despite wearing a brace to help support the ankle, Rugosi admitted, "I could barely handle the pain at the beginning of the day. But as the day went on, the less I felt my ankle because of the adrenaline pumping through my body."
"When (Peter) returned to play in the playoffs," explained Smith, "it made a huge difference. He's an unreal competitor and he makes every player more confident on the court."
"I knew how much this medal would mean to our team, and me, so I wanted to push hard," recounted Rugosi. " I just ignored the pain as best as I could and played my best. We set the middles a lot so that I wouldn't have to cut out every time to spike since I couldn't run that fast."
Rugosi's comeback and stellar play certainly didn't go unnoticed by Volleyball Canada's organizing committee who named him the most valuable player of the Championship, while teammate Saqib Shaikh was named to the National All-Star team.
Volleyball Canada awards one all-star selection to each of the fourth and third-place teams, and two to the second-place team, while awarding one selection to the gold medalists, coupled with the MVP award.
"He was the standout player at the tournament — serving, attacking, blocking, passing and digging — in every area," said Smith.
"I feel very humbled being named tournament MVP because it's a huge award and every one played amazing on my team so it must have been tough to choose the MVP," said Rugosi.
"Being named National All-Star was a big honour," conveyed Shaikh of his selection. "Not too many players win this award, so being named (an All-Star) was very special. I felt like my leadership and playing left side and right side led to me getting this award."
"All the guys played well," added Smith. "Our two setters, Ashraf Shaikh (Saqib's cousin) and Trent Ketrzynski, (also) deserve a lot of credit because they work hard, have good skills, make good decisions on the court, and always put the team first."
Ashraf Shaikh appreciated the positive sentiments from his coach.
"I feel like the talent and hard work that we possess on this team is unbelievable. Our coaches are very good at keeping us focused all the time. (Coach Smith) always stressed to us about hard work and where it will lead you on and off the court. The team trust and bond we have is also unbelievable.
"Our team was very confident going into both Provincials and Nationals. But that confidence didn't just come from nowhere," said the 5-foot-9 Ashraf Shaikh.
"We had a very talented and hard working team that always gets the job done no matter who is on the court. (In) beating Storm in most of the tournaments that we played, we thought it was very realistic that we would beat them again."
The Grade 9 Mississauga Secondary School student added the team's success stems from "the great chemistry we have on and off the court. We always trust in each other to get the job done.
"I feel (as a setter) I should be leading my team and helping everyone out," continued Ashraf of his responsibilities to his teammates. "Setters do not get most of the credit, but I feel if the setter is not making good decisions and not setting well, then the team will not have success. The attributes that I possess come from my coaches and the person within me. My coaches have taught me how to make good decisions when I am setting, and the work ethic and team first attitude comes from within, as I realize that hard work will take me a long way in life and a team first attitude will always benefit the team more as a whole. You become a team first player when you realize that individually you cannot win a game by yourself. It comes from a team effort."
That team first attitude resulted in a nearly unblemished record, other than the 25-20, 20-25, 12-15 stumbling against Storm RipTide, in which Smith says, "We were up 10-5 in the third and lost 12-15. We talked about never letting up and staying focused. That experience helped out in getting the job done in the final, I feel."
After the preliminary rounds in which the Pakmen defeated Markham Revolution, Leaside Thunder, Toronto Patriots, London Heat and Leaside Thunder for a second time, the Pakmen knocked off Markham Revolution 25-12, 25-23 in the quarters; Niagara Rapids Black 25-10, 25-12 in the semis; and Storm RipTide 25-17, 22-25, 15-6 in the final.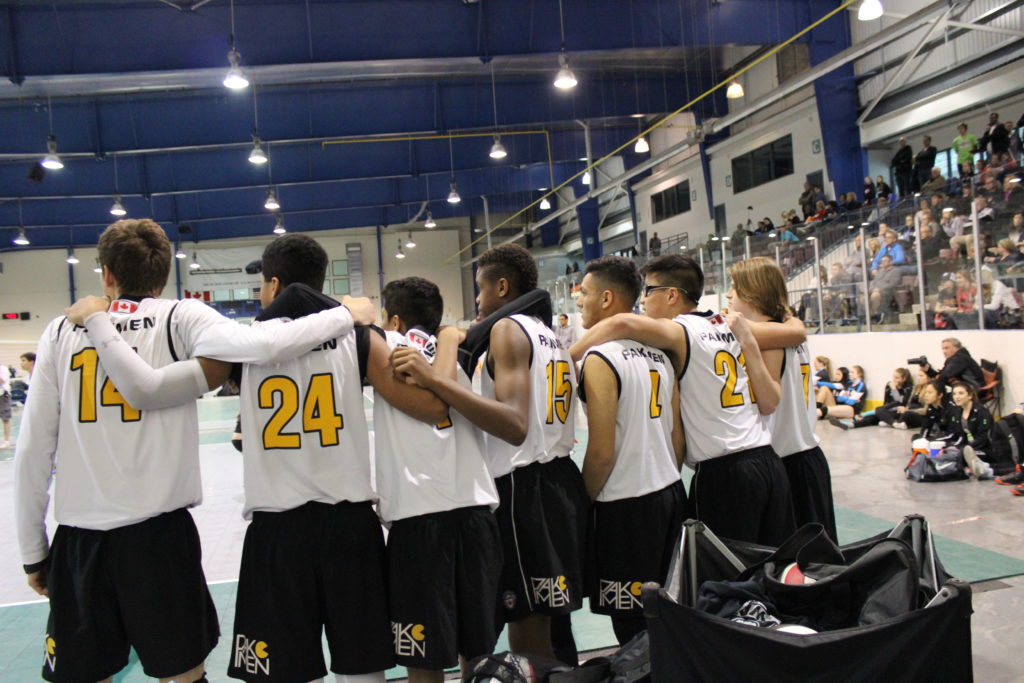 "I feel very happy and lucky to win both Provincials and Nationals," summed up Rugosi on the indoor season. "It was great to see that all our hard training paid off."
"It feels amazing being both the Provincial and National champions," chimed in Saqib. "We worked hard all year long and it paid off. We feel proud bringing another Provincial and National title to Pakmen.
"Storm is a great team and they compete hard. They push us for each point. I felt like our serves were a big factor in the finals and that really gave us the extra edge," added the Grade 9 Mississauga Secondary School student.
Now, says Ashraf, is a well deserved summer off before the 16U indoor season begins.
"We need to forget about the success we had this season and not let our egos get in the way. Next season we need to start fresh, and we, as a team, need to work extremely hard to become back-to-back Provincial and National champs."
As author Willa Cather once said, "There are some things you learn best in calm, and some in storm."
If so, the Pakmen will enter the next OVA indoor season a well prepared and confident group.
Other members of the championship team include Luca Nastase, Talha Kahloan, Mark Dildar, Nick Basilio, Karman Nahal, Josh Pereira, Tevin Bramwell, Jonathan Li and Sebastien Martin Demers.
Smith was assisted by Franco Rugosi, Alex Ketrzynski and Andrew Ceolin.