Accomplishments
Pakmen Chahal and Ha Complete 2016 Sweep with OVA Beach Gold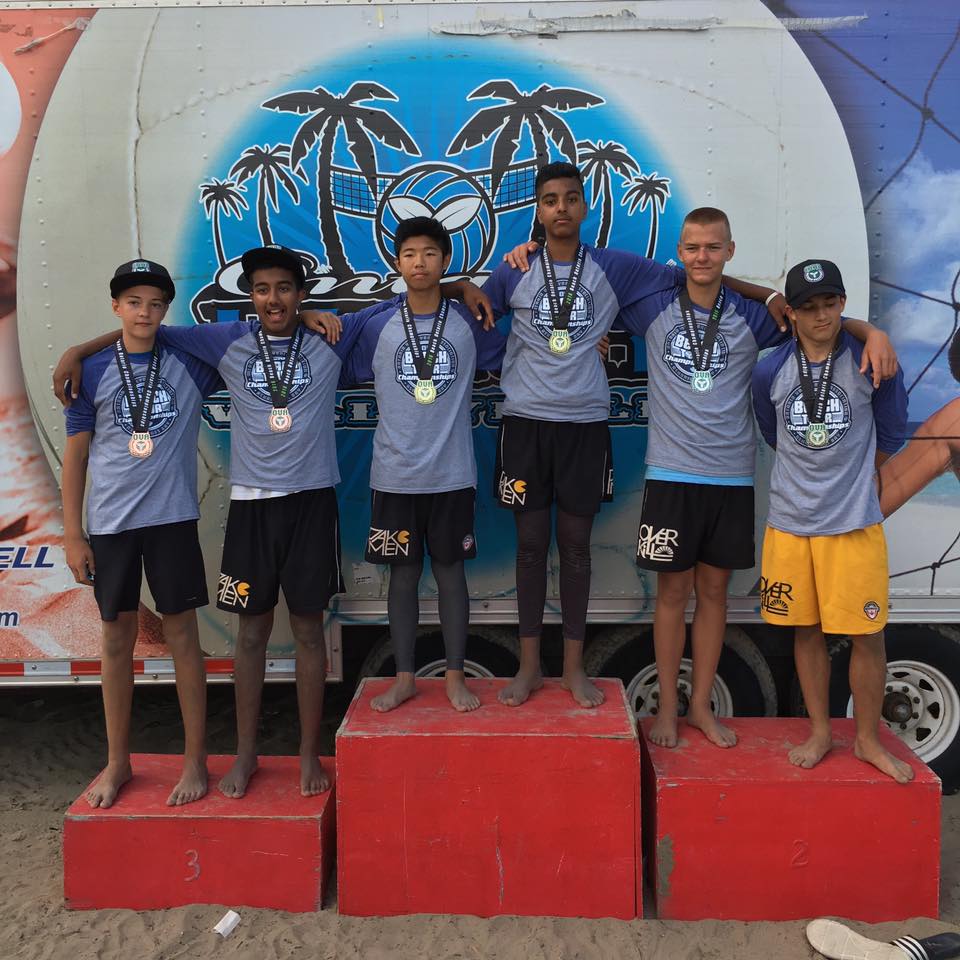 By DAVID WINER
"Wily, old veterans," of the court are hardly the words that spring to mind when characterizing a couple of 14 year old athletes.
Up-and-comers, ambitious, or perhaps promising, can best describe the immense talent and potential today's elite youngsters may project.
But, Harjas Chahal and Jamie Ha are hardly your typical striving teens.
Members of the Mississauga Pakmen Volleyball Club, Chahal and Ha have an advantage over just about all of their opponents when taking to the sand for a beach volleyball match – camaraderie brought about by familiarity.
"Jamie and I have lots of chemistry as we have known each other since Grade 3," explained Chahal of his relationship with fellow David Leeder Middle School graduate Ha. "We also played on multiple school sports teams together. This allowed us to get to know each other as well as build trust in each other."
Those strengths contributed to a gold medal performance at the OVA (Ontario Volleyball Association) U14 Beach Volleyball Championships on July 30 at Toronto's Ashbridges Bay.
Riding on a high after defeating fellow Pakmen teammate Ishaan Thandi and his teammate Lyam Krapp in the semi-finals, 2-0 (21-19, 21-12), Chahal and Ha proceeded to beat Markus Hong and Ethan Hendriksen of London for the gold, 21-17, 21-13.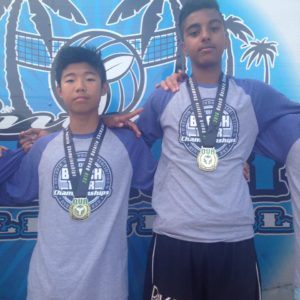 "We don't get mad nor do we get frustrated with each other because we trust one another," continued Chahal about his unique relationship. "Also, another big factor is that, even though I have more experience (five years of volleyball to Ha's three), he can understand the game just as much, which is useful going against tough opponents."
And Hong and Hendriksen certainly posed as tough foes, entering the championship final as befitting the defending Ontario champions and the No. 1 seeds.
"We had never played them leading up to the finals, so we didn't know about their weaknesses or strengths until we played them," admitted Chahal, who missed most of last summer's play with a broken toe.
So, with little previous knowledge of the defending champs, Chahal admitted there was nothing planned for afterwards to celebrate the gold medal finish.
"We were just in shock that we had won gold at provincials, it was almost like a dream come true."
Chahal also had kind words for bronze medalists Thandi and Krapp.
"One of the toughest teams we faced were my Pakmen teammate Ishaan Thandi and his partner Lyam Krapp. We had faced them In the finals twice before provincials (with) both (matches)going into third sets and being (settled by) a difference of two (points), which we both won once."
While this is the first year Chahal and Ha have played together on the OVA outdoor circuit, there's little doubting their ability to anticipate each others whereabouts and moves.
"Harjas and I click as a team because we've known each other since elementary school and we always play with each other on the beach courts at David Leeder during school recess and for practice," said Ha, adding, "The Pakmen elite beach training prepared Harjas and I by giving us more playing time together and our coach, Jessy Satti, gave us a lot of tips that we used to help us in provincials."
And while the final and semi-final contained some nervous moments for the duo, Ha took pride in the fact, "Harjas and I had a relatively easy road to gold. We had a couple challenging sets, but we didn't drop (one)."
While the 5-foot-6 Ha and the 6-foot-1 Chahal will likely be indoor teammates with the 15U Pakmen in the fall, the two will find themselves as opponents for the first time in school play.
Ha will attend St. Marcellinus Catholic Secondary School in the fall, while Chahal will attend the neighboring Mississauga Secondary School – two Region of Peel volleyball powerhouses that will certainly improve with the aforementioned additions.
Mississauga, however, appears to have the upper-hand for now, considering bronze medalist, Thandi, will be teammates with Chahal.
At 6-foot-1, Thandi can be considered a late bloomer, having spent much of his early years dribbling and dunking on the basketball court. Thandi will be entering his third year of indoor action with the Pakmen and is completing his second year of beach play.
"I just started to play volleyball in Grade 7," explained Thandi. "I was a basketball player for powerhouse CIA Bounce but made the decision last year to focus on volleyball. (And) Pakmen is the only volleyball club I have played for – to be the best you have to play for and with the best."
Thandi certainly has the inside track in that department. Not only can Thandi turn to Satti for coaching advice, he can also pick the brain of Krapp's father, Lennard.
"Coach Lennard has been a technical coach with our Pakmen indoor team for the past three years and he is now heading to Rio to coach one of the men's beach volleyball teams (Josh Binstock and Sam Schachter) at the Olympics," said Thandi. "I have been lucky to have amazing coaches in indoor and beach including coach Lennard, coach Jessy and our indoor coaches, coach Tom (Leca) and James (Gomez)."
And, other than the first- and second-place finishers, Thandi and Krapp were the next highest seeds entering the 12-team Tier One division of the tournament
"I knew that out of the 12 teams, realistically any eight or so could have won," said Thandi. "I felt we were contenders for gold, but also knew we would have to play Jamie and Harjas in the semis to get to the gold medal match because of the rankings."
"(But) we (still) felt good heading into provincials as in the past two tournaments, we met Harjas and Jamie in the finals – with them winning one tournament and us winning the other.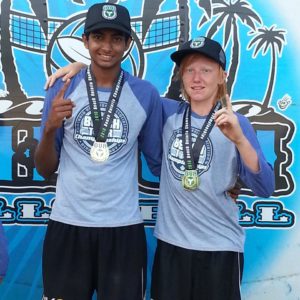 "Harjas and Jamie complement each other well," pointed out Thandi of his outdoor foes. "Harjas is one of the best hitters in our age group and Jamie is probably the best defender for his age on the beach. I am fortunate they are my teammates in indoor. The last few times we played them – when we lost and we won – both games went to three sets with the third set being within two points. At provincials after a close first set, they beat us in the second set. I believe they were the best team in the province this year for beach and I am proud of their accomplishment. It would have been nice to be playing them in the gold medal game rather than in the semi finals."
While Thandi lacks volleyball experience compared to Chahal, Ha and Krapp, who will compete for Markham Revolution in the fall, Lyam's father saw enough in Thandi to reach out to him last summer.
"I met Lyam through coach Lennard last year when he was looking for a competitive partner for his son," explained Thandi on how the team was formed. "Last year we were very successful – winning four gold medals, one silver and a provincial bronze as well. This year we started off slower, partly due to surgery that had me out from playing for the month of May. However, I feel we ended off stronger and I am proud of our accomplishment at provincials because the Premier division was very strong and competitive."
Thandi feels he and Krapp make the perfect team.
"In our pair, I do most of the blocking and Lyam does the digging. We stay positive with one another and our personalities complement each other. I am the loud, emotional leader on the court where Lyam is more of the quiet leader with experience."
Not to be forgotten on the sands of Ashbridges Bay, were the winners of the Championship Division. And once again, members of the defending U14 OVA Provincial indoor champion Pakmen were front and centre.
Davis Young and Kevin Leo, two more members of that powerhouse Pakmen squad, took their rightful places atop the podium after defeating Forest Turpel and Ethan Maroudas on Niagara, 22-20, 21-13 for the gold.
Leo and Young had earlier defeated the team of Docker and Zaholla in the semi-finals, 24-22, 21-13 and Cameron Chadwick and Dean Battaglia of Barrie in the quarters, 21-11, 21-16.
Quite the accomplishment considering it was the first time Young and Leo had played as an outdoor team.
"This is my first year playing beach," explained Young, who will attend Georgetown District High School in the fall. "I played with four different players for each of the four events I attended.
"I won gold in three out of the four tournaments I played in this year, one OVA Premier gold, one Satellite gold, and one Provincial Championship Division gold."
And considering their success, Young and Leo, a St. Barbara Elementary School graduate, who will attend St. Marcellinus in September, will likely continue to play as a team.
"We have a good mix between height and speed," explains Young. "Kevin is 6-foot-2 and can finish a ball, and I am good defensively."
Young adds, "communication," and "perhaps staying with one partner to really get to know how each other plays," should result in more success down the road.
While Young and Leo won't compete at the upcoming Nationals, with Leo being out of the country and Young competing in a baseball championship final, the two hope to battle for U15 gold next winter with Chahal, Ha and Thandi.