News
Pakmen Dominate National Junior Team Selections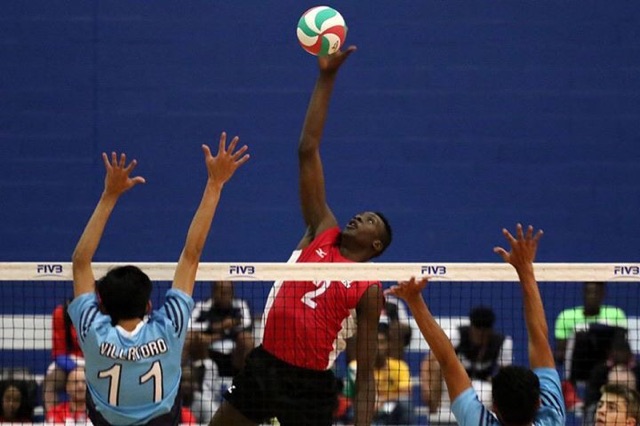 By DAVID WINER
Volleyball Canada bestowed upon the Mississauga Pakmen the greatest compliment an organization can ever hope to receive when the 2016 National Junior Team was unveiled in June.
Of the 14 stars named to the squad, not one, not two, but three members of the 18U Pakmen men's team were included.
Left sides Sharone Vernon-Evans and Taryq Sani and libero Jordan Pereira were rewarded for their long hours of sweat and dedication, when Canadian head coach Gino Brousseau and his assistants Jeff Chung and François St-Denis, selected the trio. They were joined by fellow Ontarians, right side Charlie Bringloe and middle Matthew Mawdsley of the London VC, middle Daenan Gyimah of the Scarborough Titans and left side Matthew Passalent of the Mountain Athletic Club.
The Ontario Seven will be joined by University of Saskatchewan teammates and setters Derek Epp and CJ Gavlas of Saskatoon, middle Pearce Eshenko (Banff), left side Jacob Kern (Edmonton) and middle Max Vriend (Barrhead) of Alberta, left side Eric Loeppky of Steinbach, Manitoba and Libero Eli Risso of Kelowna, B.C.
They will comprise the hosting Canadian team at the U21 NORCECA (North America, Central America and Caribbean Volleyball Federation) Continental Championship from July 5-10 in Gatineau, Quebec.
And, as Pakmen club and U18 head coach Orest Stanko is anxious to point out, Pakmen's representation at NORCECA came tantalizingly closer to becoming four, five, or even six strong.
"Not only are there three Pakmen athletes on the Junior National Team, three other athletes from the 18U team were recognized for their talent and were invited to the Youth National Team tryouts, including Jak Paterson, Jordan Figueira and Xander Ketrzynski," explained an euphoric Stanko. "Unfortunately, none of the three were selected."
However, Stanko added, "I'm exceedingly proud of the three athletes and their selection to the team."
Stanko couldn't say enough about the individual strengths of the three players who helped the Pakmen win the OVA championship and come within a set of winning the National Championships.
"Taryq's athleticism immediately stands out," says Stanko of Sani. "Despite being only 6-foot-2, his spike touch is an impressive 12 feet. Taryq has a bright future as an outside hitter whether LS (left side) or RS (right). What also stands out about Taryq is his relentless work ethic and dedication to becoming a better player."
"Sharone has been on Team Canada's radar screen for several years. He has the prototypical volleyball physique; he is tall (6-foot-8), has an incredible reach (216 cm), and an outstanding, world-class vertical (spike jump touch 12-foot-3). What is especially attractive for the National Team is that Sharone has been trained as an outside hitter. He has the potential to become a 'go-to' hitter in the same mold as current Team Canada senior team stalwart, Gavin Schmitt."
"JP established himself as one of the best liberos in the the country," said Stanko of the 5-foot-11 Pereira. "JP's best skill, by far, is his defensive play. Many of his digs are jaw-dropping and are a direct result of his fearless attitude."
So, considering Pereira, Sani and Vernon-Evans' many strengths, Stanko was the least bit surprised that so many Pakmen and Ontario-area players were selected to the team by Canada's braintrust, that also included Senior men's coach Glenn Hoag.
"Pakmen Volleyball Club and (President) Kelly Smith are dedicated to athlete development and providing the best possible supportive environment for athletes to achieve their goals," explained Stanko. "It is a privilege to be a part of the best volleyball club in Canada."
According to Stanko, the improvement of the sport in this province is largely due to the implementation of more full-time staffers
"Many of the clubs, especially the larger ones such as Aurora, Ottawa Mavericks, LVC…and of course Pakmen, have attracted, and in some cases retained, full-time, high-quality coaches," explained Stanko. "Additionally, many of the clubs are developing relevant yearly training plans, which have had a direct impact on technical skill development. And as the skill level of the athletes increases, the quality of the competition increases, which has an additional, direct impact on the ability of the top athletes to compete at the next level."
All the coaching in the world couldn't prepare the players for the excruciating wait each had to endure before learning whether they were a part of the national team, or not. Pereira gave a description of the stress each of the Pakmen must have felt before learning of their fates the second week of June at an invitation only tryout in Gatineau.
"Before my meeting I was extremely nervous," admitted the Eden High School graduate from St.Catharines. "Probably the most stressed out I've ever been. I was sitting and waiting for my meeting outside of the (coaches) room with all the other liberos, since they went by position. (And) out of the liberos, I was the second last to go, so whenever a libero finished their meeting, I covered my face with my shirt so I couldn't tell if they made the team or not. They were only picking two liberos and I didn't want to know if I made the team before my meeting started. My meeting was conducted by Glenn Hoag and Gino Brousseau and was very brief. They told me I made it, said a couple things, and I left. The whole walk back to my room I could not stop smiling. Luckily my roommate, Sharone, also made it so I told him the good news and the mood in our room was very happy."
"I was really excited and immediately contacted my family to share the good news," said Vernon-Evans of his reaction.
"To conclude my club career by making the national team is a perfect ending," said Pereira, who added that the coaches' decision regarding liberos came down to, "passing and defense. So they really relied on the stats. They also looked at who could control the defense and passing…something I am still working on."
While Pereira's and Sani's time with the Pakmen was relatively short, Vernon-Evans spent his entire club career with one organization that he will be eternally grateful to.
"I could not have asked for a better way to end my club career," said Vernon-Evans of his selection. "I am incredibly grateful to have been given the opportunity to play for the Junior National Team and to have played for the same club from start to end. Not every player gets that chance. I lucked out. Pakmen is a great organization and I have received nothing but love and support over the years. Pakmen for life!"
Pereira and Sani also couldn't help but notice the heavily weighted choice of players from this province.
"It just shows how volleyball in Ontario is becoming dominant," said Pereira. "Historically, western province teams usually dominate, but in recent years OVA teams are winning more and more national titles."
"I believe that the competition in Ontario, specifically within our age group, is unmatched," said Sani. "Playing against some of the top athletes in Canada on a daily basis really prepared me for the tryouts."
And being selected, proved a tonic for the Pakmen trio after a disappointing ending to their club careers after coming within a set of winning the Volleyball Canada club title.
"It was reassuring to me," said Sani. "After a tough loss in the national finals leaving a bitter taste in my mouth, being selected as one of the top 14 athletes really helped with my confidence."
Vernon-Evans referred to the loss to Edmonton's FOG May 15 in Saskatoon, as a learning experience.
"Honestly, it will take a while to get over nationals, but the experience has taught me that sometimes you learn more from losing. It was a humbling experience. Nationals was a difficult loss, but it made me work harder and made me even more grateful for my spot on this team."
But for now, the players' focus are the NORCECA Continental Championships.
Canada has fared well in the 18-year-old competition held bi-annually against top players from such powerhouses as Cuba and the United States. This year's event will also include National teams from Barbados, St. Vincent, Guatemala and Trinidad & Tobago.
Cuba heads up the medal table with five gold medals. Canada is second with two gold, four silvers and one bronze, United States have captured two golds, two silvers and five bronze, while Puerto Rico stands fourth with two silvers and two bronze.
However, Canada hasn't won gold since 2004 and Vernon-Evans, Sani and Pereira are now part of that national squad that will attempt to bring gold back to the True North.
The top two finishers will represent the region at the 2017 U21 Men's World Junior Championships in Brno, the Czech Republic.
Canada will be looking to secure a ticket to the World Championships for the fifth time in a row.
"I represented Canada in Acapulco at the beach world championships," said Pereira. "That was my first experience representing Canada and it was very cool. Last summer I made the Youth National Team, which was my first indoor volleyball chance at representing Canada, and it was a real honor playing with a Maple Leaf on my chest. But, this will be my first time representing Canada where we play in an International tournament and I am very excited to play some powerhouse volleyball countries like Cuba and the USA.
"Our biggest competition will be against Cuba and the US. Cuba has seven guys on their world league roster who are eligible for their junior national team, so they will be very strong. The USA usually has a very strong team, and I am looking forward to playing against them."
"The whole team has bonded together and I'm really looking forward to playing with them," added Vernon-Evans.
"When I'm on the court playing I normally just focus on the team on the other side, but representing my country is out of this world. I feel very proud of how far I have come. I know I have a long way to go, but I started as just a kid trying to follow in my sisters footsteps to (now) making the Junior National Team. I feel honored to be put in a position where I can play and fight for Canada."
Sani, who will be attending the University of Calgary in the fall, is also looking forward to wearing the Maple Leaf once again this summer with Pereira.
"After the NORCECA tournament Jordan and I will be representing Canada on the beach in the U19 FIVB Beach World Championships in Larnaka, Cyprus. It is a huge honour to represent Canada internationally because it is my dream to eventually become an Olympian and stand on the podium for Canada."
Hearing the national anthem twice in one summer would certainly be a dream come true for the soon-to-be Pakmen alumni.
The chase for the much coveted gold medal begins on July 5, at 8 p.m. against Guatemala, followed by matches against Trinidad & Tobago on July 6, and Cuba, on July 7.