Alumni
Pakmen Girls Are a Big Hit at the University Level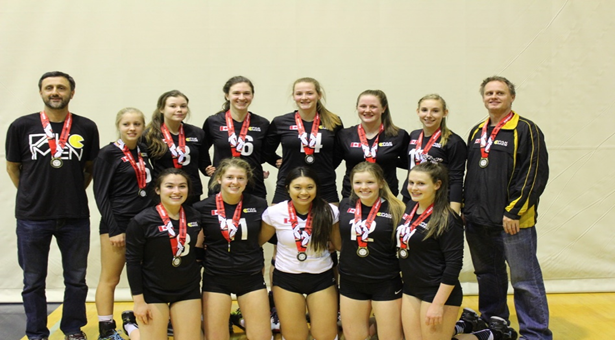 By DAVID WINER
Every year the Mississauga Pakmen Volleyball Club bids farewell to its graduates as they prepare for the next chapter in their lives.
And much like high schools, the Pakmen attempt to ready their U18 players for what lies ahead. They are, after all, the club's ambassadors to the outside world.
A well-rounded, mature player and individual is what the club strives to develop. Making a good impression in the court of public opinion across the post-secondary landscape, paves the way for future generations of Pakmen grads.
That is why 2016 girls' U18 Pakmen coach Mike Albert was so thrilled about the accomplishments of last year's graduates as the collegiate season drew to a conclusion March 19. As emissaries for the Pakmen club, last year's graduates earned an A+ grade.
In all, five graduates from the U18 girls' program were named to All-Rookie Teams.
"The coaching staff was very happy to see all (our) players recruited to varsity teams across the country," said Albert. "It was an extra bonus to see so many players recognized with awards in their rookie varsity year."
Albert's daughter Janelle, who is still in high school and again with this year's U18 squad headed up by Albert, is the lone player from 2016 not in college or university.
"I've been fortunate to run into every player this winter," continued Albert, who guided the 2016 Pakmen to Provincial OVA gold. "I've been present at certain matches, watched live stream games, and even had players join our current 18U team practice over the holidays.
"A lot of great memories (resurface) when you see them, and (we) coaches still find ourselves talking about those memories."
Albert also appreciates the opportunity to improve as a coach when he watches his graduates in action.
"It definitely helps watching players you've coached play at the varsity level. To understand the transitional successes, or the required improvements (needed) from our coaching efforts moving forward. Understanding how to prepare athletes for the next level is important to us.
"Although we are training the athletes to win championships during each club season, we always try to keep the big picture in sight with respect to long-term athlete development," added Albert. "Certain skill levels are sufficient to compete at the club level, but as coaches, we remind ourselves the skill investment is not over until we believe it will achieve varsity level success."
To that desired end, a job well done. The following list includes graduates from the U18 girls' team, along with the colleges and universities they are attending, their positions, hometowns and the courses they are Majoring in.
Lauren Veltman – Ryerson Rams, Middle, Brampton (Child and Youth Care)
Kristen Burns – University of New Brunswick Varsity Reds, Middle, Mississauga (Engineering)
Julia Balatbat – Brock University Badgers, Libero, Scarborough (Media and Communications)
Emma Armstrong – University of Toronto Varsity Blues, Left Side, Brooklin, (Kinesiology)
Julia Krebs – Outside Hitter, Oakville, Royal Military College Paladins
Cailin Wark – Ryerson Rams, Outside Hitter, Georgetown (Geographic Analytics)
Melissa Langegger – University of Western Ontario Mustangs, Left Side, Oakville (Kinesiology)
Mady Timpany – Ryerson Rams, Setter, Woodstock (Arts)
Jessica Lam – University of Western Ontario Mustangs, Setter, Oakville (Health Sciences)
Brenna McArthur – Sheridan College Bruins, Libero, Milton (General Arts and Science)
Of the above first-year post-secondary players, Veltman, Armstrong and Wark were named to the OUA (Ontario University Athletics) East All-Rookie Team, Langegger made the OUA West Rookie Team and Burns made the Atlantic University Sport All-Rookie squad.
Langegger and Burns were also named Rookie of the Year in the OUA West and Atlantic University Sport conferences respectively.
And, as a result of their efforts, Western's Langegger and Lam were members of the OUA silver medalists; Armstrong was a part of the perfect 19-0 Blues, who captured bronze; and Veltman, Wark and Timpany pushed the U of T to four sets (25-23 in the final), to place fourth.
"Being named Rookie of the Year in the OUA West division and being a part of the OUA All-Rookie Team was a huge honour, especially given the number of talented rookies in the OUA this year," said the 5-foot-10 Langegger. "Going into the year this was not something that was even on my radar screen.
"My goal was simple – work really hard and try to get some court time on a talented Mustangs team. In reflecting on the year there were really three things that made this possible; great coaching, hard work and unbelievable team chemistry. I definitely owe it to my club coaches (Mike Albert and Pat Daniels), as well as my coaches at Western (Melissa and Randy Bartlett) for believing in me and constantly pushing me to improve as an athlete. I am also very grateful to have been able to play with such fantastic teammates, first at Pakmen and now at Western. These girls, who really are my best friends, have always been there to support and mentor me, so a lot of my success is due to them."
Langegger gives Albert and Daniels two thumbs up when it comes to preparing their players.
"I believe the Pakmen program was instrumental in helping me make a successful transition into the OUA with the Mustangs. I started my volleyball career later than most girls," said the Abbey Park Secondary School graduate, "so I had to play catch up most of the time. Coach Albert saw that I had the ability to compete at a high level and provided me with the opportunity I needed. He provided great knowledge of the game, intense practices, one-on-one coaching time, and a genuine interest in me as a player.
"Even though I was still developing as a player, he also showed confidence in me and gave me the opportunity to play in big games, which really made a huge difference, accelerating my development as a player and strengthening the mental aspects of my game. My two years at Pakmen were absolutely phenomenal. I played for a great coach, a great team and a great club. I can honestly say that this opportunity with Pakmen under Mike's leadership was the difference maker for me and is really why I am where I am today."
Burns also sings high praise for Albert, agreeing that he and Daniels were major contributors to her capturing the Kristen Ryan Memorial Award as AUS rookie of the year.
"The Pakmen program really helped me (prepare) for the varsity level," said the Meadowvale Secondary School graduate. "We had top-level coaches working with us pushing us to be our best. They all assisted me so much to improve my skills and game play. Coach Albert was willing to try new things with me to see what worked best. He pushed me at every practice and was always giving me advice. He always knew what to say to our team at the right times. He was tough on us, which helped for university and the daily practices we have had this season."
Starting in all 20 matches and playing in 74 of 76 sets for the Varsity Reds, the 6-foot-2 Burns led all first-year players—and finished third in the conference—in blocks with 63 on the season.
"Kristen is well deserving of this award," said UNB interim head coach James Cress. "As a first-year student-athlete she was asked not only to start every match, but to play multiple positions. In the end, her commitment and abilities established her as one of the best blockers in the conference."
"Receiving AUS Rookie of the Year was such an honour," said Burns. "It proved that all my hard work had paid off. My teammates, coaches and parents are always there supporting me with anything I do and are pushing me to be better every day. Being a first-year Engineering student isn't easy for anyone, and this shows that I am capable."
Deciding to head east to UNB was initially largely due to scholastic opportunities.
"New Brunswick has one of the best engineering programs in Canada," explained Burns. "As soon as I walked onto campus it felt right for me. The buildings and people, everything just clicked and I knew this was where I belonged. The coaches, training facilities and players all made me feel like I was a part of the Varsity Reds family."
And despite a rough year for the Reds, statistically, Burns can't wait to take to the court next season, and take on more of a leadership role.
"This year we were definitely the youngest team in the AUS, with about half the team first years. Although it was a rough year, I feel we greatly improved with some wins near the end of the season. We showed teams that next year we will be fighting and will come out even stronger. I feel I can help to improve the team by first working my hardest and giving 100 per cent. I can also step up and be a leader and help my team out."
On the other end of the spectrum, Langegger and Lam came just short in a bid for OUA gold, getting tripped up by McMaster in five sets, ending in 17-15.
"The OUA final four tournament was an amazing experience," said Langegger. "Taking down U of T in the semis is, by far, my favourite volleyball moment and is something I will remember for years to come; and then winning the OUA silver was just the icing on the cake. In the finals against McMaster we played a crazy five-set match. Down 2-0, we really pressed hard, and were able to fight our way back to 2-2. In the fifth set we were at match point…so close! Although it didn't end with the outcome we wanted, it did give us a lot of confidence knowing we were headed to nationals as well as insight as to what we were truly capable of achieving as a team."
Like most of her teammates, Langegger stayed in touch with her former Pakmen teammates and relished going head-to-head with some of them on the court.
"I definitely stay in touch with my former teammates, even if we are rivals on the court these days. Our Pakmen team had such an amazing connection; even today, as busy as we all are, we will always be there for each other if any one of us needs anything. It is definitely harder to stay in touch now as we are spread out across many universities in Canada and have such busy schedules between volleyball and classes. Social media really helps us to keep each other updated on how we are doing and to share a laugh every once in a while. Also, it's great when we get a few minutes to catch up when we play each other during the season."
Langegger had even more things to talk about with Armstrong when they met, since both are studying Kinesiology.
"I have really enjoyed my first year in this program as it brings together my interest in science and my love of sport," explained Langegger.
"Kinesiology is a great program and it is exactly what I was hoping for," said Armstrong. "One of the coolest opportunities I have is working in the cadaver lab. It is rare for first-year students in other programs, or at other schools, to work with the specimens, so I really appreciate the hands-on learning environment."
Despite being upset by Langegger and Lam after a perfect regular season, Armstrong was thrilled with her decision to join the Blues.
"Winning an OUA bronze medal is not the finish my team wanted. We work so hard every day and put a lot of trust in one another to reach our goals, so it was a disappointing finish," said Armstrong. "I am incredibly proud that we were able to battle in that bronze medal match and finish with a medal. This year will hopefully be a learning lesson so we can come out stronger next year! It was a little weird being on the other side of the net from my former teammates, but before I joined Pakmen that's the way it was. I love playing alongside them, but it's also fun to compete against them.
"I'm absolutely loving my time here at U of T," added the Donald A. Wilson high school graduate. "It is a very challenging school academically and athletically, which I enjoy. I have very little down time, which can be exhausting, but it keeps me busy and forces me to manage my time well. My teammates are some of the greatest people I get to spend every day with and I am so thankful to have 16 role models in my life. They are the best support system and have really helped me in my first year."
Consistent with what her Pakmen teammates said, the 5-foot-11 Armstrong is extremely grateful to last year's coaching staff for preparing her.
"My 18U year was one to remember and I owe a lot of that to Mike. He ran our team really well and made all of his aspirations clear from day one. Mike incorporated individuals (skill sets like passing) into our week, which was very beneficial. My coaches at U of T do the same, and it is great to have some one-on-one attention to focus on technique. (Most important, however) is the dedication Mike had to each player. He really cared about us as a team and this helped us excel. We were very close with one another and I think that's important when trying to attain success."
And speaking of her former teammates, Armstrong stressed each one remained only a phone call away when the urge struck.
"I stay in touch with quite a few of my former teammates," she said. "They are some of my closest friends and playing on different teams doesn't take away from that. We don't see each other as often as we used to, but that just creates a different relationship. I know I can always count on them if I need something. On the court we are all competitive and want to win, but after the game is over, that feeling goes away and we are able to support one another's accomplishments."
Speaking of accomplishments, Wark and Veltman also had big years alongside Timpany.
"I think that knowing I would be with Mady and Lauren this year really helped me transition and get used to being on my own without my family," said Wark. "It was nice knowing that I would have two people with me that I've known for so long, and that I wouldn't be doing it all alone, especially at the beginning of the year. The team and coaching staff have been so supportive and so welcoming that I now have a huge support system that I can rely on and I am so thankful.
"I am excited and honoured to be named to the OUA East All-Rookie Team alongside such great players," added the 5-foot-11 Wark. "This year has been an amazing learning experience for me and I think I've really grown as a player.
"The Pakmen program was very helpful to me in fitting in at the university level," continued Wark adding that the Pakmen "focus is based on a lot of specific and tactical skills that contribute to all-round play. Mike helped me a lot over the years and always pushed me to be the best player I could be by giving me little things to focus on to really work on and commit to instead of focusing on a bunch of things at once. Pat also helped me a lot. It was such a privilege to be coached by them and to have had such good relationships with them. I still see the both of them from time to time which is really nice!"
"Our team was super close last year and we always had so much fun together, which was part of what made my 18U year so special to me," continued Wark. "It was so weird to think about competing against them this year instead of with them, but no matter what, we all support each other, and being able to have friendly competition provides a lot of emotional support in itself. Also, just being able to see each other, even if it is on opposite sides of the net, is so special since it's hard for all of us to get together with our busy schedules."
Unlike her other Pakmen teammates, Veltman had the added bonus, and, perhaps pressure, of stepping into a league her older sister Kelsey is an established star in, just being named a U Sports second-team all-Canadian after being named the OUA West Division Player of the Year earlier this month as a member of the Western Mustangs.
"I have never had a second thought about Ryerson," said Lauren. "Yes, I did have Western in my mind while choosing schools, but Ryerson was always the one. I really enjoyed my first year at Ryerson and wouldn't trade it for anything."
While she didn't have her sister by her side, the towering 6-foot-3 Veltman could list Wark and Timpany as her teammates.
"Entering a school with two of my teammates was very helpful," she said. "It was nice to have girls there I was comfortable with (early on).
"(And) Cail, Mady and I were pretty close to a medal. We pushed U of T to a fourth set, but couldn't get it done in the end."
Still, being named to the All-Rookie Team is a nice consolation prize.
"Coming into such a demanding student athlete role for the first time, It is really amazing to be noticed for my efforts as a rookie. I really think I am making a name for myself and being named to the (OUA East) All-Rookie team is helping me along with that."
And, as is the case with her former teammates, Veltman owes much of the credit to last year's coaching staff.
"Coming out of the Pakmen program was very helpful," explained Veltman. "I found that my two years with Pakmen (prepared) me for the university level. Coach Albert has been one of my favourite coaches throughout my years of volleyball and he has so much knowledge that I took into my university experience."