Accomplishments
Pakmen's Ha, Chahal Golden in Provincial and National 14U Beach Play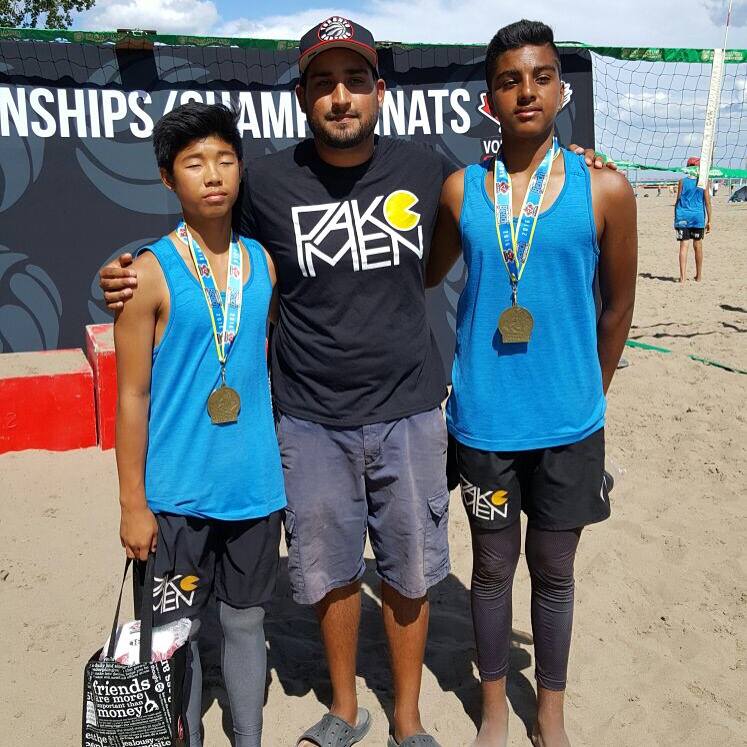 By DAVID WINER
Jamie Ha had an itch he couldn't scratch for much of the spring and summer.
After winning the Ontario Volleyball Association Provincial indoor title with his 14U Mississauga Pakmen teammates, Ha fully expected to lay claim to the Eastern Canadian indoor title as well.
But, as is often the case in sports, expectations are sometimes met head on with disappointment, and the Pakmen suffered an early departure from the indoor Nationals in the first week of May.
Luckily for Ha and his good friend and teammate Harjas Chahal, volleyball has two seasons. And where expectations fell short in the spring, hopes and wishes were met and exceeded at the tail end of the summer, as a gold medal at the Provincial 14U Beach Volleyball Championships on July 30, was followed by more gold at the Youth Beach Nationals Aug. 18-21 at Toronto's Ashbridges Bay.
"It feels amazing to win both Provincials and Nationals because during the indoor season the boys 14U Pakmen team lost in the quarter-finals at Nationals and Harjas and I feel proud to represent Pakmen and win beach Provincials and Nationals."
"Being a double gold medalist feels amazing," offered an exultant Chahal. "And in the gold medal match, when we got the final point, I was on my knees celebrating as Jamie was jumping around. We both couldn't believe it.
"At the beginning of the season, we knew we would be contenders for gold, but we didn't know that we'd end up winning Provincials, let alone Nationals, so we were both grateful."
It's as if the two David Leeder Middle School graduates won the back-to-back titles for their indoor teammates as much as for themselves.
While Ha and Chahal defeated Aurora's Dalton Irwin and Markus Law-Heese 23-21, 21-13 in the championship final, and Quebec's Carl-Eric Lafleur and Florent Hogue 21-14, 21-17 in the semi-finals, the two 14-year-olds felt their toughest challenge came against Ontario's David Kang and Arthur Bento in the quarter-finals when they were stretched to three sets, eventually prevailing 15-21, 21-10, 15-10.
"Playing David Kang and Arthur Bento in the quarter-finals was our toughest match of the tournament because they beat us in the first set due to a lack of communication," felt Ha. "But in the next two sets, Harjas and I started talking before and after every point (which helped) to secure the win."
"Losing the first set to Kang and Bento was expected because we weren't playing and communicating like we had been the whole season," agreed Chahal. "Being the morning, (and) also the third day (of the championship) had a bit of a part to play (in it), but our coach Jessy Satti had a talk to us and just said to communicate and talk, which we did the next two sets, which led us to a win."
And for his part, Satti couldn't be more proud of his players.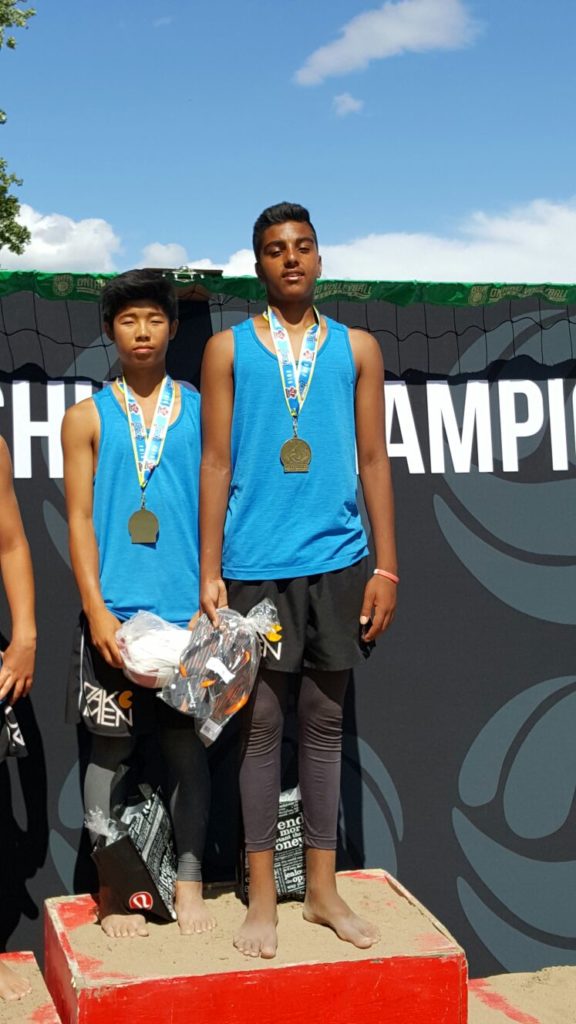 "Jamie and Harjas were sharp all day," said Satti. "They had moments where nerves were kicking in, but they managed to overcome that by communicating with each other and taking pressure off each other.
"Once the nerves settled, and they started getting comfortable, they became a very aggressive team," added Satti. "They were hitting the ball hard and serving very tough. It was nice to see them play their best volleyball at the very last tournament of the year, and at the most important tournament."
Other than the three-set victory over Kang and Bento, the 5-foot-6 Ha and the 6-foot-1 Chahal were also extended to a third set against fellow Pakmen teammates Ishaan Thandi and Lyam Krapp in preliminary round action, dropping the opener 21-18, before bouncing back with 21-14, 15-13 wins.
Thandi and Krapp eventually bowed out to Lafleur and Hoag 2-1 in the quarters.
"Losing to Thandi and Krapp did have a part to play (in our gold medal), because me and Jamie were used to being down the first set during the season, so we knew how to come back from it again," said Chahal. "Like our coach Jessy says, 'it doesn't matter how you start out, it matters how you finish," so in keeping that in mind, we pushed through and ended up winning both games."
"Coach Jessy has helped us a lot, with him constantly reminding us of little details that Harjas and I use while we play in games," said Ha. "Jessy has also guided us during practice and at Provincials and Nationals."
This summer also proved one more thing to the David Leeder graduates, who will go their separate ways in September. While Ha will attend St. Marcellinus Catholic Secondary School, Chahal will attend the neighboring Mississauga Secondary School.
And that is, "Harjas and I will remain as a team," said Ha of his best friend. "We both learned a lot about the game of beach this summer and we will continue to improve on (communicating with) each other off and on the beach courts, as well as cheering after every point."
"I feel Jamie and I clicked because we had that chemistry being on sports teams together (since Grade 3) and knowing each other since elementary school," chimed in Chahal. "I knew we were going to be contenders for gold, both at Provincials and Nationals and I had the confidence, but saying something and doing it, are two different things, but we tried our hardest and our hard work paid off.
"You can expect me and Jamie to try out for the upcoming 15U indoor (Pakmen) team and hopefully we can win a Provincial and National championship."
Other than the preliminary round victory against Thandi and Krapp, Ha and Chahal also defeated Loreto Cerasuolo and Tyler McBride of Oakville; Andrew Song and Forest Turpel of Niagara; Markus Hong and Ethan Hendriksen of London; Lafleur and Hoag; and Irwin and Law-Heese, by 2-0 margins.
"Winning in two sets was important because we didn't want to waste any more energy than we needed to as the tournament was three days long," said Chahal. "So we needed all the energy we could get."
Also representing the Pakmen at the Nationals were Owen Jacobs and Darrin Harnandan-Wang, who reached the round of 16 before losing a tough three-set match to Angelo Ventresca and Matthew Battad of British Columbia, 21-15, 17-21, 12-15.