Accomplishments
Pakmen's Rugosi, Ketrzynski Clean up on the Beach Winning Provincial and National 16U Titles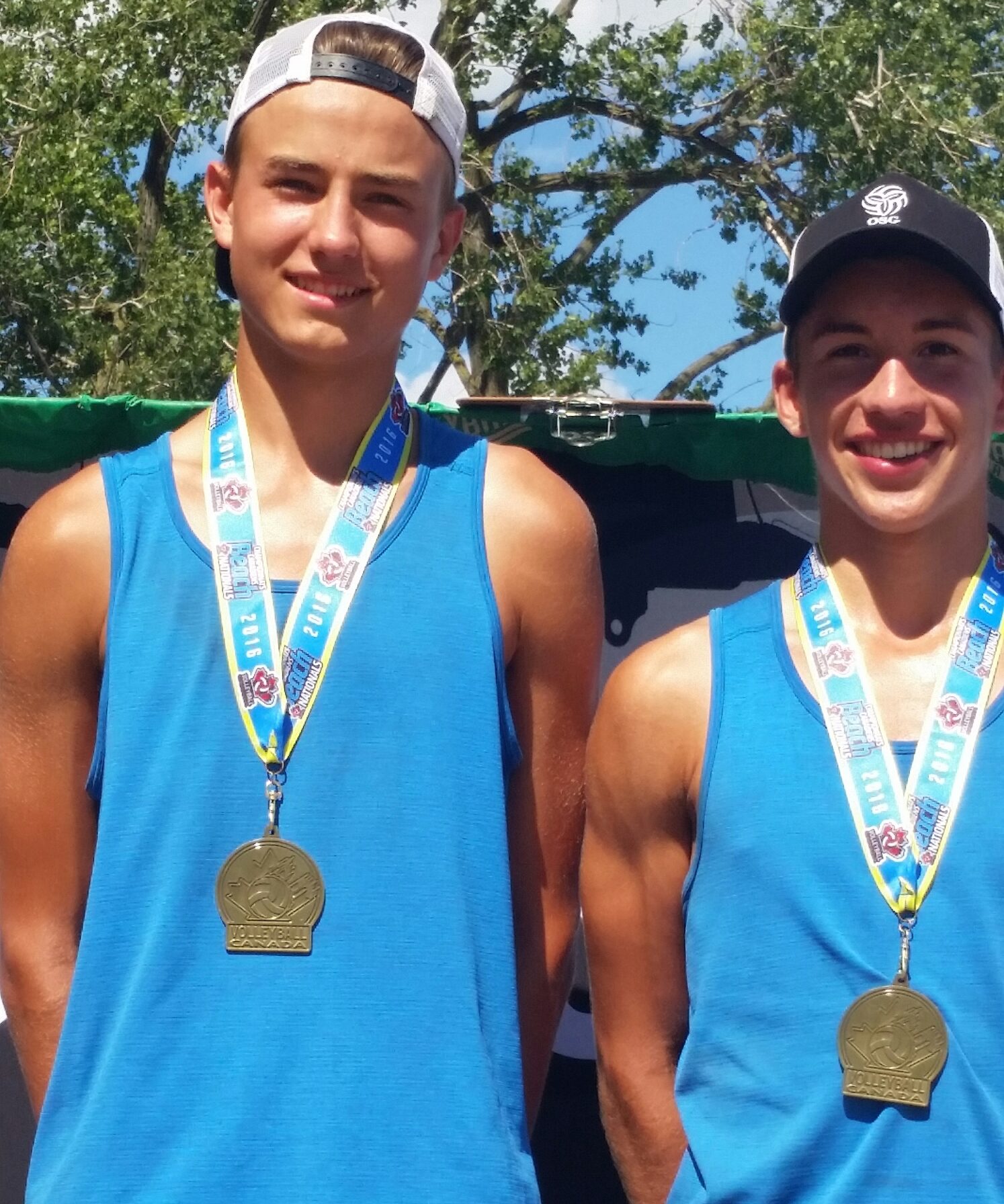 By DAVID WINER
Peter Rugosi can play volleyball for the rest of his life and he will never eclipse what he accomplished over the past 12 months.
After all, how can one improve on perfection.
Paired with fellow Pakmen star Cole Ketrzynski this summer, the two 15-year-olds played up an age group yet still swept the 16U Provincial and National Beach Volleyball titles.
Combining those championships with the Provincial and Eastern Canadian indoor titles he won with the 15U Pakmen, and Rugosi won all four major titles this year.
"I feel extremely lucky because (four titles) is really, really hard to get and I somehow managed to. I never thought that I would be able to achieve what I have achieved this year," gushed the 5-foot-11 Rugosi on a dream year.
Had Ketrzynski not moved up two age groups during the indoor season, he too would have walked away with four gold medals.
The Coup de gras occurred this past weekend (Aug. 19-21) at Toronto's Ashbridges Bay.
Taking on 14 of the best 16U teams in the country at Volleyball Canada's Youth Beach Nationals, Rugosi and Ketrzynski won all 10 of their matches.
"This feels unreal and like a dream for me because I have never gotten a national beach title before and I never thought I would've gotten my first one playing up an age group," added Rugosi in regard to his most recent achievement.
Rugosi and Ketrzynski earned the National Beach title with a straight-set 21-12, 21-16 win over Matthew Lee and Justin Lui of Ontario in the final.
Earlier, the duo swept past Quebec's Jonathan Portelance and Yannick Beaudet 21-12, 21-16 in the quarter-finals and Alberta's Sam Elgert and Matt Neaves 21-11, 21-11 in the semi-finals.
Rugosi and Ketrzynski were only stretched to three sets in one of their 10 matches, when they faced Lee and Lui in the final preliminary round match, losing the opening set 17-21, before rallying back to prevail 21-15, 15-12.
Rugosi, who will attend Etobicoke's Bishop Allen Academy in the fall, explained how losing that one set enabled them to better face what lay ahead in the final day of play.
"I feel like losing the one set was something that Cole and I needed to do in order to win the title," he explained. "Because, it was always on our minds. Losing that one set reminded us that we were vulnerable to losing. We knew that we had to play to the best of our abilities every single match.
"I also feel that staying free from all the extra work, and keeping it down to two sets for almost every game, meant that we could focus on the game rather than how hot it was."
Ketrzynski wholeheartedly agreed.
"I much prefer to win a (match) in two (rather) than in three (sets) because it maximizes your recovery time," offered Ketrzynski. "And also anything can happen in a third set, so it's always better to try and go two straight."
And having fought back from a set down against Lui and Lee meant that they had the confidence when facing them again in the final.
"We both thought that we could beat them because we had complete confidence in each other from the very start," said Rugosi. "That one set that they took off of us didn't make us doubt our abilities for one second. We figured out what we did wrong the first day we played them and made sure that it didn't happen again."
"Going to the third set with them did put a thought in my mind," said Ketrzynski. "Not that we're in trouble, but that we need to put in that extra effort in order to pull off the win."
And, with Rugosi's father Franco eyeing the proceedings with his coaching cap on, little was left to chance.
"He saw all the mistakes we were making and he would tell us what they were during timeouts," revealed Rugosi. "Without him, we wouldn't have won."
Pakmen head beach coach Jessy Satti, who was also involved in preparing Rugosi and Ketrzynski for the championships, came away impressed.
"Cole and Peter played with great energy," observed Satti. "They are big at the net and solid defensively.
"I'm really impressed at how well they played, considering that they are a new pair (and that) they've rarely trained with each other," added Satti. "They are both great players, and having the three-day tournament format, they were really able to get comfortable playing with each other. They got much better day by day."
Having played together for two tournaments last summer, followed by this entire outdoor season, Ketrzynski and Rugosi grew increasingly comfortable with one another's tendencies on the beach, which led to improved play on a weekly basis.
"The secret for us, I think, was just getting used to each other more because Cole and I haven't practiced a lot together," reflected Rugosi. "I think the Ontario Summer Games (Aug. 12-14, where they placed second to Cole's brother Xander and Jack McBain) helped a lot because we played together a lot more there, allowing us to get used to each other's style of play."
"I felt we were much more confident in what we were doing having played together the past few weekends," added Ketrzynski.
All those matches improved the duo's timing, especially when it came to setting up the towering 6-foot-5 Ketrzynski at the net.
"(Ketrzynski's height) was a big advantage," concurred Rugosi, "because everyone we played was taller than the people I usually play with in 15U, so he helped a lot blocking and taking up space on the court, making my job easier as a defender."
"The height certainly helps," said Ketrzynski, who will attend Toronto's York Mills Collegiate in September. "However, we did come across a bigger team (in Elgert and Neaves) and we still managed to win," suggesting height can be helpful, but that talent aces size most days.
In earlier, preliminary round matches, Rugosi and Ketrzynski swept, Cole Irwin and Noel Campfens, 21-12, 21-12; Jackson Dunning and R. Abrams, 21-13, 21-12; Reece Drezzick and Dominic Losier of Alberta, 21-8, 21-8; Portelance and Beaudet, 21-16, 21-15; Pakmen teammates Avy Bath and Saad Shaikh, 21-19, 21-13; and Elgert and Neaves, 21-14, 21-7.
Speaking of Bath and Saad, they gave Pakmen supporters more reason to celebrate, capturing a bronze medal.
After winning five of their first six matches, Bath and Saad out-lasted Zachary Hollands and Zachary Moisan of Quebec 23-25, 21-11, 15-10 in the quarters; lost to Lui and Lee in the semis, 21-13, 21-16; then rebounded to best Elgert and Neaves 21-17, 21-18 for the bronze.
"Saad and Avy played solid all weekend," said Satti. "I was impressed that they committed to playing beach since they both did provincial team this summer. It was nice to see that they were committed to play because they've been partners since 13U.