Accomplishments
Rugosi and Ketrzynski ready themselves for Ontario Summer Games with OVA Beach gold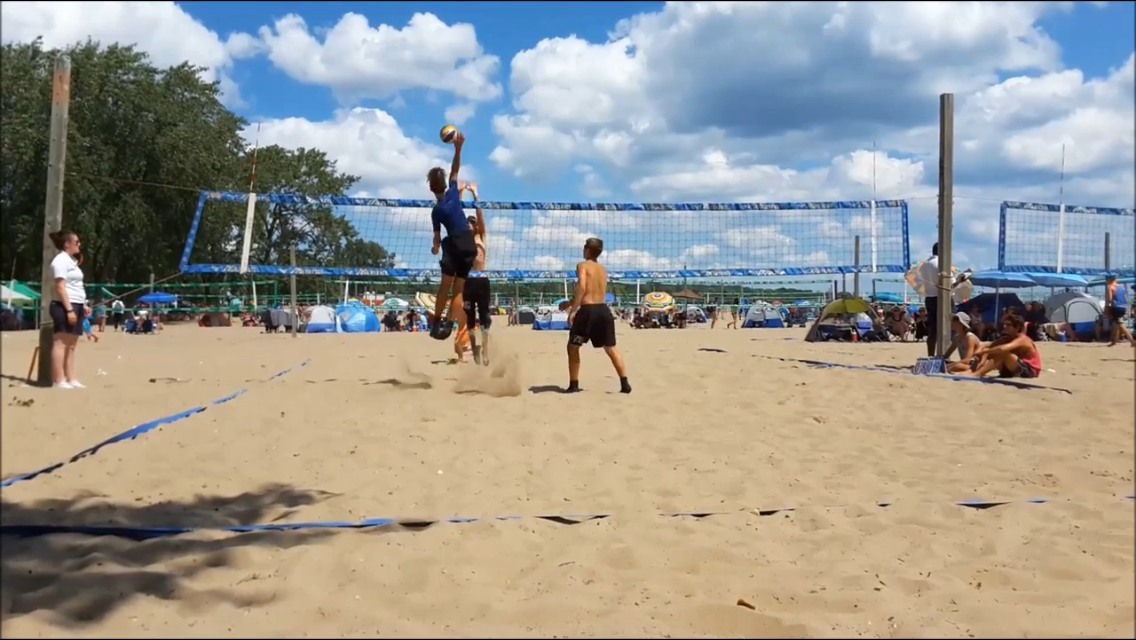 By DAVID WINER
Winning gold at the OVA Beach Ontario Championships is becoming old hat for Peter Rugosi.
Entering this year's 15U championships at Toronto's Ashbridges Bay over the weekend (Aug. 6-7), the Mississauga Pakmen Volleyball Club star had already claimed the top of the podium each of the last two summers with fellow Pakmen member and long-time amigo Mark Dildar by his side.
But, Ontario Summer Games Region 5 coaches threw a wrench into the works by teaming Rugosi with a different partner this summer, fellow Pakmen Cole Ketrzynski.
Instead of fretting about any lack of chemistry, or griping about Dildar not being by his side, Rugosi promptly demonstrated why he is a true champion by building a well-tuned Maserati with that wrench that purred all the way to the finish, rewarding Rugosi with his third straight provincial crown.
"The coaches strongly suggested that (Cole and I) play a tournament together before (next weekend's) Ontario Summer Games and we decided that provincials would be a good tournament," explained Rugosi, who added, "We tried out as individuals and the coaches made us a team."
Rugosi, who also won Provincial indoor championships each of the past two seasons, added there were other complications prohibiting he and Dildar from returning to defend their title for a third straight summer.
"Mark (Dildar) is a great indoor and beach player, but unfortunately it didn't work out this year and he didn't play because of Region 5 and because of his elbow injury at the beginning of the year. (Mind you) If I hadn't been selected for the team this year then I would've played with Mark at provincials."
Although relatively new as a team, having only played twice last summer including an age group up at the Nationals where they placed fifth, Rugosi and Ketrzynski hardly missed a beat over the weekend, cruising to victory without losing any of the 16 sets against their eight opponents in the 27-team field that was eventually whittled down to 12 in Tier One and 15 in the lower Champions Division.
Much of the credit belongs with Pakmen beach coach Jessy Satti, who prepared his two charges for the beach Provincials. Satti, who regularly works hand-and-hand with beach head coach Lennard Krapp, took on most of the responsibilities this summer, with Krapp currently coaching Olympians Sam Schachter and Josh Binstock in Rio de Janeiro.
"Peter and Cole make a great team," said Satti. "Cole is a dominant blocker and Peter is one of the fastest defenders on the beach. Both set well and both can put the ball away attacking."
And while Rugosi and Ketrzynski rarely had the opportunity to compete with one another, they had the chance to admire each other's abilities.
"We got to know each other by playing against each other in court and in beach and one day last year he asked me if I'd like to play a tournament with him and it worked out great so we've been playing for about a year," explained Ketrzynski about his partnership with Rugosi.
And Rugosi soon realized there's a distinct advantage to feeding the towering Ketrzynski the ball at the net.
"My secret with Cole is that I set him on the tape and he just hits the ball straight down," said Rugosi. "Cole is 6-foot-5 with an incredible amount of skill, so it is no problem for him to do that. (And) all the weaknesses we had (like serving) we were fixing all throughout the tournament so that when we hit the finals, you could barely see a weakness."
That final match pitted Rugosi and Ketrzynski against Cole Irwin and Noel Campfens of Toronto's Patriots Volleyball Club, with the Pakmen prevailing 21-12, 21-15.
Earlier, Rugosi and Ketrzynski downed Robert Cooke and Erik Siksna of Aurora 21-7, 21-9 in the semi-finals and Craig Therkildsen of Aurora and Grant Reddon of Durham 21-17, 21-12 in the quarters.
"They were all tough games, but in the end it would've probably been Craig and Grant in the quarters (who gave us the toughest resistance) because we have never seen Grant play before so we had no idea of what to expect from him," added the 5-foot-11 Rugosi, who will attend Grade 10 at Etobicoke's Bishop Allen Academy in the fall.
Among all the championships Rugosi has won in recent seasons, he suggests, "This ranks really high because it was the most recent achievement in my life and and I also won provincials in indoor which I haven't done since the 13U season."
While Rugosi is accustomed to the best, when it comes to picking out jewellery….er…gold, Ketrzynski, despite his obvious talents, is a relative neophyte when it comes to precious metals.
"It's the best I've ever done in beach," said Ketrzynski, who played up two age groups in his first year with the Pakmen this past indoor season after coming over from the Patriots, "so I was very happy with the result."
Ketrzynski, who will attend Grade 10 at Toronto's York Mills Collegiate in the fall, would appear to be the perfect fit for Rugosi. While Rugosi reflected on Ketrzynski's great co-ordination and leaping ability at the net, Ketrzynski offered, "I think something that helps with our success would be Peter's reliability and his skills. He's always able to give me the set I need and help me play to the best of my abilities."
Being surrounded by Pakmen in indoor play has also been a boon to Ketrzynski's immense talents, adding that "I enjoyed the switch a lot and the change in the intensity and competition."
Along with the competition, outdoor players have also had to compete against the heat in this record-breaking summer.
And both Rugosi and Ketrzynski insisted learning to deal with the heat is almost as important as preparing for their opponents.
"Something I found helpful to beat the heat was to wash off with cold water between games, either in the lake, or at the showers they have by the washrooms," offered Ketrzynski.
"I usually just bring a lot of water, Gatorade and fruits to the beach when I play to keep me hydrated when I play," offered Rugosi. "I also stay in the shade for most of the day 'cause the beach is already hot enough and I don't need to go in the sun to get hotter.
"I have seen people cramp up on the beach while playing important games because they were dehydrated," added Rugosi, "and they usually ended up losing the game."