News
Sheridan College Coach Pento Joins Satti's 17U Championship Squad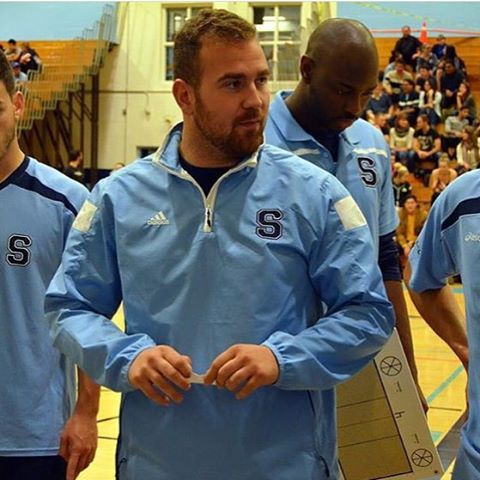 By DAVID WINER
"Don't sweat the small stuff."
They are often words of advice from well-meaning individuals, trying to protect those dear to them from stressing over the little things.
And yet, it's the little things, if done right, that can lead to greatness.
Legendary college basketball coach John Wooden certainly took those words to heart, when he said, "If you do enough small things right, big things can happen."
Mississauga Pakmen 17U indoor head coach Jessy Satti, may have had those sentiments in mind when he hired Frank Pento to be his assistant coach this fall for the defending Provincial and Eastern Canadian champions.
A one-time teammate of his while toiling side-by-side with the Sheridan College Bruins, Satti remained good friends with Pento, and decided to pop the question to him late last season after Pento took over as head coach of the Sheridan program.
"Frank and I have known each other for years," explained Satti. "We played together for three years, and he and I always had a good relationship. So after he got the head coaching job at Sheridan, I thought it would be great to have him come out and help. And it worked out. He started coming out regularly once Sheridan's season was over, and he helped out a lot in preparation for Provincials and Nationals."
And what the 27-year-old Pento brings to the table is a penchant for going over the details with a fine tooth comb.
In fact, when Pento took over the Bruins' program from mentor, Dave McAllister, he ended the school's 22-year drought between OCAA (Ontario Colleges Athletic Association) medals with a bronze medal showing.
A major reason for the team's turnaround could be found in the words Pento first uttered when appointed, "I will strongly base our style of play on defence and execution."
Thankless tasks that often go unnoticed, yet can lead to consistent greatness and cohesion on the court.
"When it comes to passing and defence (Pento) is very detail oriented," agreed Satti. "He was a libero (as a player), so that discipline of volleyball is his strong suit.
"During practice times he gave the players good feedback on passing, and it translated. In tournaments, he was there to remind the guys, and I feel it helped us be successful and made us a stronger passing team.
"He has very good knowledge of the game," continued Satti. "He knows a lot when it comes to strategy and tactics and he's good at scouting opponents."
Satti cracks a broad smile at the thought of what Pento might accomplish over an entire indoor season.
"I'm excited for this upcoming season going into 17U," said Satti. "We ended our 16U season with a win at Nationals, so I feel that the guys are motivated to come back and work hard. It's a long season, so the coaches are excited to start working on some things that we'd like to see them accomplish by the time Provincials and Nationals come."
Although there may have been a concern, or two, regarding conflicts in schedules, Pento, who will turn 28 later this month, was anxious to give it a try.
"It's very difficult with the Sheridan schedule being so busy, but coaching with Pakmen is very important to me, so I found a way to make it work.
"I love working with Jessy," explained Pento. "He has a great mind for the game.
"I helped out a bit last year with this group of guys," he added. "They are very coachable, and I look forward to working with them again. As far as (having) a speciality, I don't believe we coaches look at it like that. I still have to sit down with Jessy and see what he wants me to do with specific players. It is an adjustment going from head coach to assistant, and my job is to follow the coach's plan and help the guys get the most out of every practice."
Pento, who starred in volleyball, hockey, basketball and soccer for the St. Paul Wolverines, while growing up in Mississauga, was a part of six Peel championship teams, and reached the soccer final at OFSAA (Ontario Federation of School Athletic Associations) in his final year as a goaltender. Therefore, it came as no surprise that he was inducted into the St. Paul Athletic Hall of Fame in June of 2012.
Despite growing up in a soccer-crazed Italian family, Pento soon realized volleyball, not soccer, was his "true calling" and soon chose to attend Sheridan, where he played for four years with the Bruins.
Along with being named a league all-star in 2012, Pento was also the recipient of the Sun Award, which is given to the most newsworthy athlete; the inaugural winner of the Rob Till Award, given to the athlete who best demonstrates leadership, school spirit and contributions to the Sheridan community; and the Male Athlete of the Year Award.
Pento also did a lot of work off the court, spearheading a fundraiser for SickKids Hospital, that far surpassed its intended goal.
"My mother passed away from lung cancer when I was in my fourth year at Sheridan," explained Pento. "It was a very tough year, but with friends on the team like Jessy, it helped me get through it. I decided that we should do a fundraiser, and make a donation in her name to her favourite charity.
"It was a great honor to win the Rob Till award at Sheridan. I believe that when you join a team, you have a responsibility to be the best you can be for that team, on and off the court. Now, as a coach, I try to pass that same belief to my players."
Growing up with soccer the No. 1 family sport, and never having played club volleyball, Pento developed an early appreciation for the finer points of volleyball.
"Never played club volleyball," said Pento. "I wish I did. Pakmen was still in the early stages when I was graduating high school. I was very late to get into the volleyball world.
"(In fact) I was not introduced to volleyball until my early teenage years, and was hooked from day one. It's an extremely technical sport, and involves a lot of hard work from all members of the team in order to be successful. Volleyball brings a great feeling of brotherhood and teaches players about the importance of teamwork, work ethic, and reaching goals."
Those virtues were in the forefront of the Bruins' season, ending with a comeback victory in last season's bronze medal match.
"Many times last year we found ourselves needing to come from behind to pick up a win," said Pento. "That definitely helped prepare us for the situations we faced in the playoffs. The most important thing is that the players must believe they can do it. That belief comes from a full season of hard work, game experiences, and the guys 'buying in' to the coaches' system. I can prepare them as best as possible, give them motivational speeches, and make tactical adjustments, but the boys need to believe deep down that they are going to get it done.
"I was very fortunate to have a veteran squad, and they helped my transition into the head coaching role. Coaching club is going to be a totally different experience, because at the college level, most players already have all the technique, understanding, and physical abilities required for the game. With a younger club team, we are dealing with young men who are still growing, still learning, and still gaining an understanding for the game. I look forward to helping develop these players into future Varsity athletes."
Satti, and his defending Provincial and Eastern Canadian championship lineup can't wait either.