Alumni
Six-Time Provincial Champs Still Winners in Post-Secondary School Careers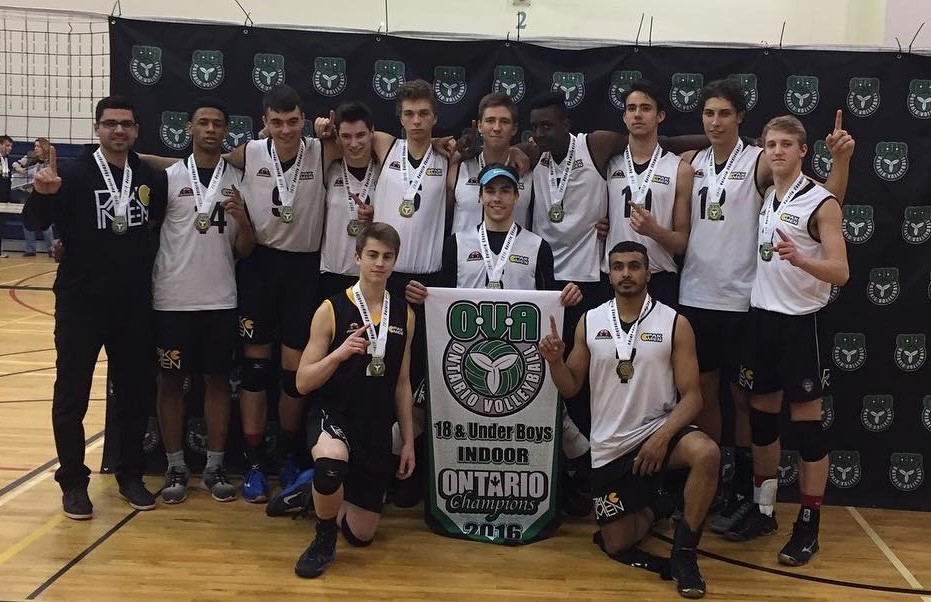 By DAVID WINER
Six-time OVA Provincial champions during their Mississauga Pakmen club careers, last year's U18 graduates haven't forgotten how to win.
What they have learned is there's more than one way to judge success.
During their five years with the Pakmen, Jordan Figueira, Alex Reiner, Andrew Smondulak, Jonathan Reid, Parvir Jhajj and Sharone Vernon-Evans were a nightmare to come up against on the court. Beginning with their U14 year in 2012 the Pakmen occupied the podium's top tier capturing six provincial indoor titles in five years.
As years passed, the likes of Taryq Sani, Jordan Pereira, Jakson Paterson, Malcolm Pentice, Tomas Sorra and Xander Ketrzynski helped ensure the Pakmen would remain supreme.
Now, looking back at their successes, these Pakmen graduates have grown to realize there's a number of ways to evaluate success, with post-secondary school educations, courage and compassion being just a few of the components.
While 2016 underagers Sorra and Ketrzynski remain in the Pakmen program under the elite leadership of head coach Orest Stanko, the other 10 former Pakmen have branched out in different directions, but have continued to flourish.
For instance, Reiner and Figueira, chose to attend the University of Toronto. But while Figueira proceeded to star for the Varsity Blues, Reiner chose to concentrate on academics in the Architectural field.
Figueira not only made the Blues as a setter, he stood out, being named the OUA East Division Rookie of the Year. The native of Oakville appeared in all 18 matches, ranked sixth among OUA setters, averaging 9.12 assists per set. The 6-foot graduate of St. Thomas Aquinas Secondary School also finished inside the OUA top 10 with 1.87 digs per set.
While becoming the first Varsity Blues player since the 2000-01 season to win the award, Figueria, who is juggling a Major in Commerce, also led Toronto in both sets played (68) and service aces (18). And in 12 of the Blues' 18 matches, Figureira logged more than 30 assists.
"The transition from club ball to the university level is difficult to adjust to since there are a lot more hours spent in the gym and each individual game has to be prepared for and has a lot of importance," said Figueira, who was joined by Queen's Golden Gaels' middle Prentice on the OUA East All-Rookie Team. Meanwhile Pereira, a Libero with the McMaster Marauders, made the OUA West All-Rookie squad and Sani, an outside hitter with the University of Alberta Golden Bears, made the Can-West All-Rookie Team.
"Pakmen and Orest prepared me for the university level by helping me develop the skills I needed to perform at this level and by having me in the gym for enough hours a week to allow for a fairly smooth transition with respect to the increase in practices and workouts per week," added Figueira.
And while the Varsity Blues failed to make the OUA final four, which was inhabited by the Ryerson Rams, Smondulak's Waterloo Warriors, and Paterson's Guelph Gryphons, Figueira explained, "We were a young team in a predominantly older league and had trouble in long, five-set games which ultimately led to our defeat in certain big games for us."
All the more reason for Figueira to be thrilled with his award.
"I was extremely proud to have won (it); there are tons of really good young players in the league and to have the opportunity to receive this award is very humbling."
Figueira admits that between studies and volleyball there was precious little time to remain in touch with last year's teammates, but the strong connection remains there.
"I have briefly stayed in contact with some of my former teammates; whether it was playing against them, or briefly texting others to catch up. It's tough considering most of our team has had great success over the past year and everyone is either at school or working hard on whatever path they chose in life."
Speaking of different paths, Vernon-Evans took his skills to Gatineau, Quebec to train at the Canadian National Team Training Centre.
"When I was making my decision, I was looking at things I needed to focus on to further my volleyball career, such as strength and weight training as well as working on bettering my individual skills like serving and passing," explained the Scarborough native for his unconventional move.
"Pakmen helped me develop discipline as well as giving me a base foundation for my game such as: Passing, serving, setting and hitting. These things have helped me be able to add to my game, instead of starting from scratch once I got to the full-time training centre."
A tower of power with great leaping ability and an 89-inch wingspan, the 6-foot-9 Vernon-Evans could be described as a string bean teen before moving to Quebec.
"My strength has improved tremendously since I've been here!," said Vernon-Evans. "I have learned how to control my spin serve and be able to manipulate the ball with my wrist only and not my full arm. I have learned how to play the Team Canada system, which has helped increase my overall performance."
One thing Sharone didn't have to learn was his way around a kitchen. An accomplished cook, Vernon-Evans enjoys planning his daily meals.
"I often try to cook new things every day and keep things new and fresh," said Vernon-Evans. "I go to the grocery store every day for fresh food and new ideas on what to make. I find it very relaxing, so I always am looking to try to cook a great meal. I can take my time now, because I am just cooking for myself. Which is great."
Another thing that worked out great was Vernon-Evans' club career.
"Pakmen has been great for me! They have supported and guided me through all my years and helped open doors for me, which has gotten me to where I am today."
While Vernon-Evans deserves courage for his decision to leave home and begin preparing for a life as a professional player, Sani deserves top marks as a survivor.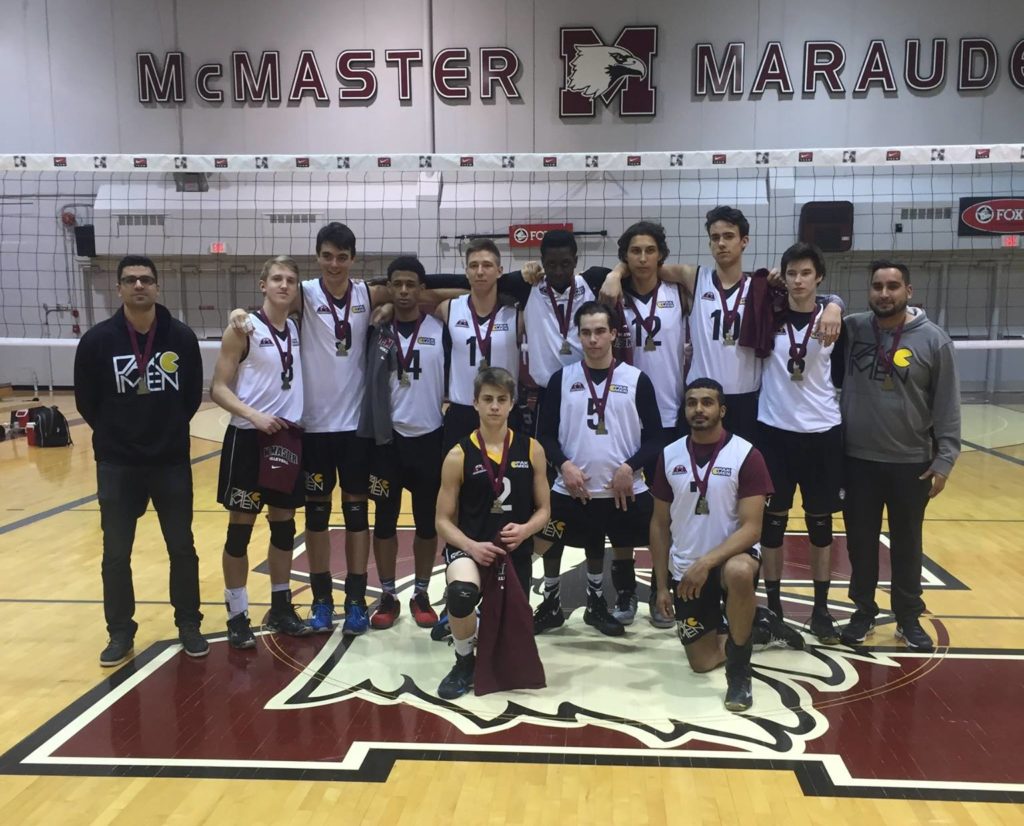 Just celebrating a silver-medal showing at the USports championships with his University of Alberta Golden Bears teammates, the 6-foot-3 native of Scarborough is just months away from a near-fatal ailment.
Competing at the FIVB Beach World Championships last July in Lanarka, Cyprus with his partner Pereira, Sani found himself gasping for air and feeling sharp pains in his chest.
"After going to the hospital I was diagnosed with multiple Massive Pulmonary Embolisms in both lungs," explained Sani of his nightmare experience. "About 70 per cent of my right lung and 30 per cent of my left lung was affected. I was told that if I had come to the hospital any later, I wouldn't be here right now."
Luckily, Pereira, Sorra and friend Dylan Devecseri, who were in Cyprus for the tournament as well, became regular visitors to the hospital, where Sani remained in ICU for four long weeks.
"Their support helped me remain sane," confessed Sani, who lost 27 pounds and was incapable of even walking due to his extended stay in bed.
"When I returned from Cyprus, I was 165 pounds," revealed Sani, who was back in the air a week later for his trip west to Edmonton. "Since then I have regained my weight and muscle mass and I am better than I have ever been before."
Proof of his work and dedication came in the form of being named to the All-Rookie Team and the near gold at the Canadian finals, which included a win over UBC in the semi-finals.
"Beating UBC was a great feeling and I feel as though we came into this tournament with a chip on our shoulders allowing us to bring the best out of one another," said Sani in reference to the team's upset loss to UBC at the Canada West Universities Athletic Association playoffs.
"I am extremely honoured to have played beside the phenomenal fifth year athletes that I had the opportunity to learn from this year," said Sani. "After an inconsistent season, they showed me the importance of never losing hope and that anything is possible. The fact that I was able to contribute in a major way in our National final match makes me extremely proud. Being named to the Canada West All-star team was very exciting for me and was honestly somewhat of a dream, due to my uphill road to recovery. I have not been sidelined at all due to my effort to remain an asset, rather than a liability, and I have traveled with the team to every game."
Majoring in Physical Education and Recreation, the Scarborough native, who graduated from St. Michael's College, is thankful for his time with the Pakmen.
"Joining Pakmen was the smartest decision in my club volleyball career," said Sani. "Under the coaching of Orest Stanko and Karim Khalil, I found my skills becoming more refined and my weaknesses less apparent."
Pakmen is also where he made some of his life-long friends.
"I stay in touch with a few of my Pakmen boys, namely Jordan Pereira and Jordan Figueira. Pereira and I usually converse about how we will spend our summer trying to figure out a balance between Junior national team tryouts and our beach volleyball partnership. Figueira and I usually reminisce about our final club year and how our first year of Varsity volleyball is going."
Sani and Pereira had an opportunity to chat face-to-face at the recent USports national championships when Sani's Golden Bears won silver and Pereira's McMaster Marauders captured bronze.
"Winning bronze at the national championships was bittersweet," reflected Pereira. "Our ultimate goal was to bring back the gold to Ontario, which hasn't been done in a very long time. We had a very good quarter-final win versus Laval, where we were down 14-12 in the fifth set and managed to come back. From there we lost a very tough semi-final to (eventual winners) Trinity Western. They were a very good team and we had our chances to beat them, but we couldn't close out the match."
Still, Pereira truly enjoys the atmosphere at Hamilton's McMaster and can't wait to take to the court next year.
"I love it here at Mac. The guys on the team are all really good people, and they are very inclusive. We push each other to the limit every day at practice, and I believe we are the most hard working team. It has been a jump from the club level to the OUA. For one, we practice every day at McMaster, and on top of that we work out after practice. Sometimes at the club level you can take a couple of days off and rely on talent, but at the next level, if you take even one day off, you will face negative consequences.
"Being a student-athlete is much different than just going to school," continued Pereira. "It is a tough balancing act between athletics, academics, and social life. A lot of times when your friends want to go out, you have to say no because it will interfere with your other commitments. It is a sacrifice that you have to make, but is definitely worth it. I have enjoyed my time very much here at Mac and have made many memories."
Taking some time out from this year's U18 Pakmen, coach Stanko expressed his delight in the accomplishments of last year's Provincial champions.
"It's especially gratifying that virtually all of the graduating athletes from last year's 18U team are pursuing post-secondary school educations at either university or college, or have embarked on a potentially successful, professional volleyball career," he said. "I believe it's a reflection of the importance the club ascribes to both athletic and academic achievement."
The following is a list of players on last year's U18 Pakmen team, complete with this year's locations, position, hometown and studies.
Jordan Figueira – University of Toronto Varsity Blues—Setter—Oakville—Commerce
Alex Reiner – University of Toronto—elected not to try-out for the volleyball team—Architecture
Andrew Smondulak—Waterloo Warriors—right side—Mississauga—Science and Business
Jonathan Reid—Queen's Golden Gaels—outside hitter—Oakville—Arts and Science
Parvir Jhajj—Sheridan Bruins—left side—Mississauga—Business Administration-Human Resources
Sharone Vernon-Evans—Full-time member of National Team Training Centre in Gatineau
Taryq Sani—Alberta Golden Bears—outside hitter—Scarborough—Physical Education and Recreation
Jordan Pereira—McMaster Marauders—libero—St. Catharines—Business
Jakson Paterson—Guelph Gryphons—Middle—Toronto—Bio-Engineering
Malcolm Prentice—Queen's Golden Gaels—middle—Oakville—Commerce
Tomas Sorra—Pakmen 18U—Setter—St. Michael's College School
Xander Ketrzynski—Pakmen 18U—right side—York Mills Collegiate