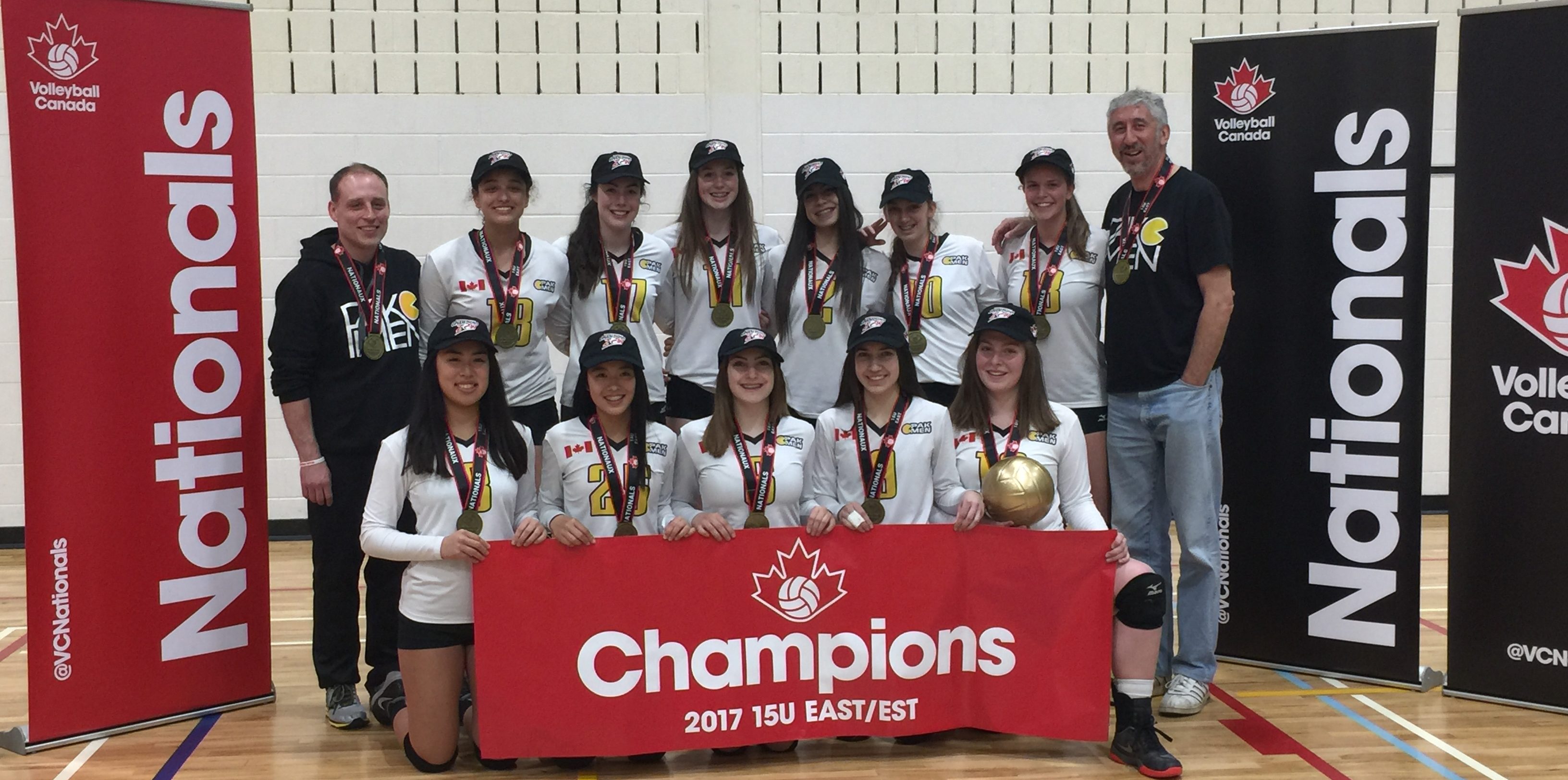 It's no surprise that even the most famous athletes in the world point out that it's incredibly important for them to be "students of the game". In other words, every athlete must be able to learn fast.
Actually, it's not enough to have talent to succeed in sport. In addition, an athlete should have striving for excellence and constantly work hard to take his/her skills to the next level. In fact, there is always something new for every athlete to learn and improve on. And of course, an athlete must be driven by a huge passion for sport.
Pakmen volleyball club is proud of its 15U girls' volleyball team. It's worth noting that girls of this wonderful team have demonstrated their ability to learn fast. Without a doubt, this has a significant impact on their careers. Today, we are beginning to see the results. The reality is girls have recently won Eastern National gold medals.
Members of the Mississauga Pakmen 15U girls' team demonstrated excellent results at Milton's RIM Park (the competition took place between May 12 and May 14). Obviously, Pakmen girls were undisputed leaders at that tournament and left all of their competitors behind the scene. It's important to note that Pakmen 15U girls' team won all of 9 matches during this tournament. Girls also had some problems during the competition. Of course, the biggest challenge for girls was an opening set loss to Halton Hurricanes in the final. However, girls analyzed their mistakes quickly and got the situation under control. So, they finished the match with a 23-25, 25-16, 15-10 decision.
According to the opinion of team's head coach Rick Christiansen, the key to the success was team unity. The coach points out that the team is very united. Girls constantly support each other during practices, matches and even off the court.
However, the most important thing is that Pakmen 15U girls are "students of the game". After games and practices, girls oftentimes choose to watch university games as well as international games. They analyze the games carefully and learn new things together.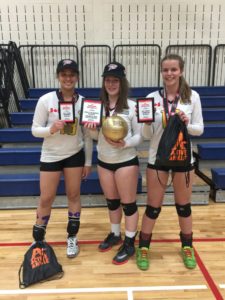 Rick Christiansen also points out that the team's assistant coach, Hernan Humana, contributes greatly to the success of Pakmen 15U girls' team. The reality is Hernan is known for being the assistant of the team's head coach. However, Christiansen believes that it's best for Hernan Humana to have the title of team's mentor coach. Christiansen points out that working with such a volleyball legend as Hernan Humana provides great experience and delivers multiple significant benefits. Rick Christiansen says that Hernan's help is immeasurable in his work. According to the Rick's opinion, Hernan Humana has strong knowledge of the sport as well as a great volleyball mind. Above all, Hernan is a kind, generous and thoughtful person who is pleasant to work with. Rick also notes that working with Hernan helps him develop as a coach. Rick calls him a friend.
Today, Hernan Humana is a professor at York University. In the past, he was a member of the Chilean national team. It's important to note that Hernan coached Canada's John Child and Mark Heese and helped them win the bronze medal at the Olympic beach volleyball tournament that took place in 1996.
Humana calls himself "a student of the game" and puts emphasis on the importance of meditation. He believes that meditation helps volleyball players control breathing, achieve relaxation and stay focused.
Christiansen says that Hernan Humana makes meditation a key part of Pakmen 15U girls team's training program. Actually, girls do meditation before volleyball practices. According to Hernan's opinion meditation helps girls keep their breathing as well as thoughts under control.
Humana believes that the Mississauga Pakmen 15U girls' team is making a huge progress. Obviously, girls are getting better this year. He says that girls were more disciplined and spent more time on meditation this year. Another important thing is that the team focused on specific physical training earlier this year. Above all, girls did drill much better and this helped them improve volleyball skills. That's the reason why Pakmen 15U girls' team has demonstrated a huge success.
Humana pays a close attention to the fact that the team's rivals are not weak this year. He believes that some of teams played even better than Pakmen 15U girls' team. However, such things as confidence, fearless attitude as well as ability to fight till the end have helped the team to make impossible possible. As a result, the team's dream has turned into reality.
It's also important to note that Christiansen as well as Humana paid a close attention to such an important aspect of the game as serving.
Humana notes that the Pakmen 15U girls' team is one of top Canada's serving teams. It's worth noting that coaches as well as volleyball players were focused on serving this year. Obviously, practicing serve played a big role in the team's strategy. The athletes spent a lot of time on doing serving and serve receive drills. Plus, team's training has become more intense. Coaches also spent a lot of time on improving the game of their passers. In other words, both servers and passers received the special training that helped them accomplish their goals.
The co-captain Fabianna Suarez-Egusquiza said that the primary focus for Pakmen 15U girls is serving. She believes that serving is the type of skill that volleyball players find it easy to control. Fabianna points out that the team accomplished its goal by the end of the season and there is no question about that. Finally, serving has become the powerful weapon for the Pakmen 15U girls' team. Obviously, serving has a significant positive impact on the success of the team.
Wernham, a Grade 9 student at Mississauga's St. Aloysius Gonzaga Secondary School says that the Pakmen 15U girls' team was well prepared at the beginning of the year. Plus, the team has developed and grown significantly during the season. Wernham says that athletes of the team spend up to 5 minutes on mindfulness and controlled breathing before every practice. And of course, this has helped the team to go through difficult situations and successfully come back after losing the first set of the finals. Above all, each member of Pakmen 15U girls' team was ready to do everything possible to win the game. Unity, friendship as well as passion for the sport of volleyball have helped Pakmen 15U girls' team become the champions.
As you remember, Pakmen 15U girls were quarter finalists at provincials and bronze medalists at Eastern Nationals in Ottawa the last year. Obviously, the team has made changes and strengthened its lineup significantly prior to this year's indoor season.
Humana says that Pakmen 15U girls's team has improved significantly comparing to the last year. It's important to know that several new talented volleyball players have joined the team recently. It goes without saying that Aimee Lemire, Julia Capone, Masha Solaja as well as Sarah Chen have become good additions to the team. Finally, the team has become more competitive.
And of course, special thanks to such members of the team as Atara Kuruppu, Leah Van Zeumeren, Olivia Erickson, Sarah Pham, Sara Wynia, Suarez-Egusquiza as well as Wernham. There is no doubt that each of these girls does a great job on the court and makes a significant contribution to the team's success.
Humana says that he is proud of being a part of Pakmen 15U girls's team. He notes that together coaches, athletes as well as parents have created a wonderful team. The legendary Pakmen 15U girls's team is also happy to have such a strong leader as Rick Christiansen.
Suarez-Egusquiza says that winning Nationals is a great achievement for her team. This is a big victory that gives players confidence. Now, she believes that Pakmen 15U girls are the best volleyball team that's capable of beating anyone. And of course, nothing and nobody can stop the girls on their way to success.
Another member of the team, Wernham, is so excited about winning the National Championships. She says that initially it was a dream for every team's member. However, Pakmen 15U girls always work hard and do every single thing possible to achieve their goals. Obviously, defeating the Hurricanes is a big day in the history of the team. This emotional moment is something that drives girls to work even harder the next season and move forward in the nearest future.
Another important thing is that you need to be aware of is that Pakmen 15U girls's team has come a long way to the final of the completion and defeating the Hurricanes. As mentioned earlier, Pakmen 15U girls have won 9 matches during the tournament. Before to get to the finals, Pakmen 15U girls have defeated Scarborough Titans in the semi-finals as well as Markham Reach Prime in the quarters. Among the other volleyball teams which have been also defeated by Pakmen 15U girls during the competition are: Cambridge Scorpion Fusion, Durham Attack, Georgetown Impact, Newfoundland Sea Hawks, Quebec Aigles as well as Quebec Attaque Bleu.
We believe that Pakmen 15U girls's team will continue to impress its fans with great games and new achievements in the future. And of course, we wish the girls as well as their coaches and parents the best of luck!